JEJU, South Korea - Leaders of China, Japan and South Korea on Saturday issued a document outlining a blueprint for cooperation within the coming 10 years.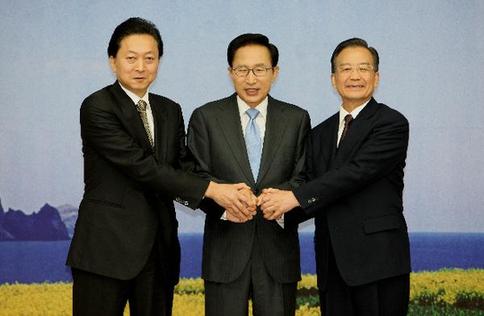 Chinese Premier Wen Jiabao (R), South Korean President Lee Myung-bak (C) and Japanese Prime Minister Yukio Hatoyama shakes hands before the third trilateral summit in South Korea's southern resort island of Jeju on May 29, 2010. Leaders of China, Japan and South Korea met in the trilateral summit with the aim of mapping out future cooperation in East Asia. [Photo/Xinhua]
Chinese Premier Wen Jiabao, South Korean President Lee Myung-bak and Japanese Prime Minister Yukio Hatoyama, who are meeting in South Korea's southern resort island of Jeju for an annual trilateral summit, made joint pledges to further trilateral cooperation in such areas as economy, security, environmental protection and cultural exchange.
Special coverage:

Wen's Four-Nation Tour



Related readings:


 Backgrounder: Trilateral meetings of leaders of China, Japan, South Korea

 Wen heads to ROK for trilateral leaders' meeting


 Trilateral talks to outline future co-op in East Asia


 China, S Korea, Japan to launch joint study on trilateral free trade deal

The leaders of the three nations agreed that after making clear the detailed objectives and long-term goals within the next decade, all sides need to concentrate efforts on boosting trilateral cooperation to a new height, so as to further consolidate partnership, achieve more in mutually beneficial cooperation in all aspects and enhance friendship between the peoples of the three countries.
The three leaders agreed to set up a more cooperative mechanism to increase strategic mutual trust, which involves setting up a trilateral cooperation secretariat in South Korea in 2011 to jointly tackle natural disasters, discuss the possibility of a mechanism of trilateral defense dialogue to enhance security contacts, strengthen political dialogue and cooperation in police affairs, and boost government exchanges at local levels among the three nations.
On developing sustainable economic cooperation and common prosperity, the leaders pledged efforts to finish by 2012 a joint feasibility study of trilateral free trade agreement, which was launched in May 2010, and to expand trade volume ahead of 2020 for the benefit of regional economic growth and integration.
The leaders said the three countries will complete negotiations on investment agreement and provide a favorable investment environment to facilitate the operation of enterprises in the region.
They also reiterated the importance of customs cooperation, and vowed to further cooperation in finance, science and technology, innovation, as well as policy cooperation and negotiations in such areas as energy efficiency and resources.
"An open, fair and liberalized multilateral trade system is not only conducive to China, Japan and South Korea, but also important for the world. We must oppose protectionism of any form to safeguard and consolidate the system," said the document.
On cooperation in environmental protection, the leaders said the three countries should jointly push for achievements at the climate change summit to be held in Mexico this year, including an effective international cooperation framework in this regard after 2012, under the principles of the United Nations Framework Convention on Climate Change, especially the principle of common but differentiated responsibilities.
On regional peace and stability, the three leaders said the denuclearization on the Korean Peninsula is very much conducive to lasting peace, security and economic prosperity in Northeast Asia.
"Therefore, we will make efforts to achieve the goals set in the September 19 joint statement in 2005 through the Six-Party talks," the document said.
The three leaders also pledged to exchange information on food safety standard, to report detected problems in a timely manner and take preventive measures, and to improve food security.
The third leaders' meeting of China, Japan and South Korea is scheduled to end on Sunday.