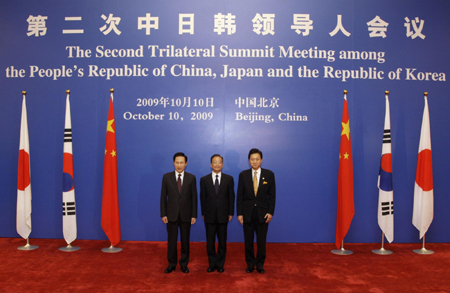 China's Premier Wen Jiabao (C), Japanese Prime Minister Yukio Hatoyama (R) and President of the Republic of Korea Lee Myung-bak pose for a group photo before a summit at the Great Hall of the People in Beijing October 10, 2009. [Agencies]
BEIJING: The Democratic People's Republic of Korea (DPRK) wants to ease a standoff with the United States, Japan and the Republic of Korea (ROK), Chinese Premier Wen Jiabao told East Asian neighbours at a summit focused on Peninsula nuke issue and on regional integration.
At the meeting on Saturday, China, Japan and the ROK vowed to seek an early restart to six-party talks aimed at ending the DPRK's nuclear weapons ambitions, and to push an ambitious idea to eventually create an "East Asian community", promoted by Japan's new prime minister, Yukio Hatoyama.
Wen, who was in the DPRK last Sunday to Tuesday, said Pyongyang wanted to ease strains, following sanctions and months of contention sparked by its second ever nuclear test in May.
"The DPRK does not only hope to improve relations with the United States, it also hopes to do so with the ROK and Japan," Wen told a news conference after the meeting in Beijing with Hatoyama and the ROK's President Lee Myung-bak.
Related readings:


 China urges US to accomodate DPRK's 'security concerns'


 US envoy leaves for China for DPRK talks


 US seeks China's support in stance against DPRK


 US special representative on DPRK visits China


 China supports DPRK, US to maintain contact on nuclear issue
Wen said the chance to revive six-party nuclear disarmament talks including Pyongyang would not last.
"If we miss this opportunity, then we may have to make even more efforts further down the road," he said.
The three East Asian leaders also vowed to work together for closer regional economic integration, aiming eventually for a bloc something like the European Union.
"The three countries remain committed to the development of an East Asian community based on the principles of openness, transparency and inclusiveness as a long term goal," said a joint statement the leaders issued at the meeting's end.
They underscored the growing pull for the three Asian powers to set aside some of their friction and rivalry as they struggle to surmount the global economic slump.
The joint show of unity may also increase pressure on DPRK to restart nuclear negotiations.
Wen said the three nations would "join hands to address the international financial crisis, climate change and other global challenges".
The combined GDP of Japan, China and the ROK accounts for 16 percent of the world's total output, with Japan and China respectively the world's second- and third-biggest economies.
In April, a month before its second nuclear test, the DPRK said the six-party talks between the two Koreas, China, Japan, Russia and the United States were defunct. It walked away from the talks last December.