Ongoing Iran diplomacy needed

By Zhang Haizhou and Cheng Guangjin (China Daily)
Updated: 2010-03-09 07:50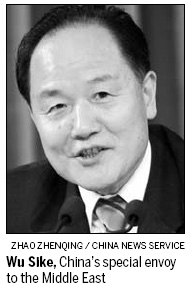 Hardline tactics will only push Teheran into corner, says envoy
Beijing: China's special envoy to the Middle East denied on Friday that interest in oil is the key reason why Beijing opposes tougher sanctions on Iran.
Wu Sike, a member of the Chinese People's Political Consultative Conference (CPPCC), reiterated that Beijing hasn't given up diplomatic efforts to resolve the issue, but urged Iran not to develop nuclear weapons.
"We don't just focus on oil in our Iran issue policy. It's a very one-sided view to say China is doing this and that because of oil, though our oil cooperation with Iran is very important," Wu told China Daily on the sidelines of the CPPCC's annual session.
"We consider the (Iran nuclear) issue in the whole picture of Chinese diplomacy," he added.
China has been firmly against sanctioning Iran for its nuclear plan. Many in the West link Beijing's stance to its oil interests in Teheran. About 11 percent of China's crude oil import is reportedly from Iran.
But Wu said it has been China's "diplomatic achievement" to ensure stable oil imports from many countries to back its economic boom over the past decades. Beijing became an oil net importer in 1993.
China now has "wide oil cooperation" not just with the Middle East but with Russia, Central Asia, Africa, Latin America, and Southeast Asia, he said, while acknowledging that more than half of China's imported oil is from the Middle East.
China imported more than 40 million tons of oil - more than 20 percent of its imported total - from Saudi Arabia, according to official figures.
The key reason Beijing is against sanctioning Iran is that tough measures may backfire, Wu said, adding that China is continuing its diplomatic efforts.
"Even though there's only 1 percent chance such measures would succeed, we should make 100 percent effort," he said.
On Thursday, an Associated Press report quoted a well-informed United Nations official as saying on Wednesday that key Western powers had sent a revised proposal to China and Russia seeking their cooperation for fresh sanctions against Iran.
The new sanctions are aimed at targeting Iran's powerful Revolutionary Guard and toughening existing measures against its shipping, banking and insurance sectors, the report said.
Wu did not comment directly on the proposal, but said that sanctions may push Teheran into a corner where it may think there's "no way to turn back".
As an ancient civilization, Iran has very strong national pride, so Western countries need to treat it equally rather than just threatening it with sanctions or military power, Wu said.
But he also urged Iran not to develop nuclear arms.
"As a signatory nation to the Non-Proliferation Treaty, Iran should obey it."
"China firmly preserves this treaty and is against Iran having any nuclear weapons. It's our basic policy, though we think Teheran has the right to use nuclear power peacefully," Wu said.
US needs actions
In the same interview, Wu said US President Barack Obama needs to have some concrete measures in the Middle East, other than just saying some beautiful rhetoric.
In June, Obama called for a "new beginning between the US and Muslims" in a major speech at Cairo University in Egypt. The comments were designed to reframe relations between the US and the Muslim world after the Sept 11, 2001, attacks and the US-led war in Iraq.
Quoting from the Quran for emphasis, Obama said in the speech that the "cycle of suspicion and discord must end".
"The Arab world pinned high hopes on Obama after the speech," said Wu, who visited Egypt and the Middle East later that month after the speech. "They hoped the US government would take concrete actions after releasing such a benign signal."
However, one year has passed with no effective moves, and Arabs' enthusiasm is cooling down, Wu said.
"The Israel-Palestine issue is left in a forgotten corner," Wu said.
"The Egyptian diplomats and I all worry that their hope will turn into disappointment, which will result in a new round of instability," Wu said.