BEIJING - Pictures of a toddler in East China's Shandong province taking care of her paralyzed father have generated a wave of sympathy and resulted in her father being taken to hospital for treatment on Wednesday with money provided by the local government.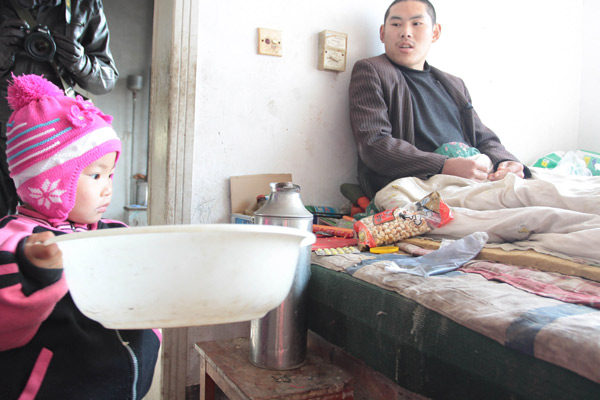 The 3-year-old Dong Xinyi prepares water for washing her paralyzed father's face at their home in Leling, Shandong province, on Dec 19. [Provided to China Daily]
The photos, released on a Baidu forum, showed Dong Xinyi, a 3-year-old of Leling in Shandong, providing daily care for her divorced father.
The pictures, uploaded by a man surnamed Pan, were quickly circulated on the Internet, giving the girl brief fame.
The father, Dong Jianshe, 26, has been confined to bed since a traffic accident in 2007 paralyzed him, Shandong Business Daily reported on Thursday.
Dumped by his wife four months after the accident, the man had to rely on his daughter who learnt to do various chores -- from cooking noodles to dipping out water from a vat -- while most of her peers enjoy their parents' care.
Now the girl's good behavior has put an end to her family's misfortune: wide media coverage of her plight has prompted the local government to pay for the man's medical fees.
The local civil affairs department also opened a bank account to receive public donations.
But experts questioned why the local government had not extended a helping hand in the first place and pointed to a defective medical insurance system as Dong's was not the first family that has had to rely on itself when hit by an accident that has led to huge medical costs.
In October in Fuzhou, the capital of East China's Fujian province, Huang Jianfeng's parents had to set up an intensive care unit at home with rented life-support equipment after they spent their last penny paying for the teenager's treatment in hospital.
Last July, 14-year-old Huang was diagnosed with chordoma, a bone cancer that left him paralyzed below the neck, according to a Xinhua News Agency report.
Fuzhou-based newspaper Southeast Express posted a message on Sina micro blog early this month calling for financial and medical help for Huang, which generated more than 200,000 yuan ($30,100) in donations to the family.
Yue Jinglun, a professor with the School of Government at Guangzhou-based Sun Yat-Sen University, said on Thursday that although a medical assistance system has been established as a complement to medical insurance, it is still evolving.
"At present, there are only pilot medical assistance schemes in big cities such as Beijing and Shanghai," Yue said. "In addition, very few people know about the programs or which organizations they should turn to for help."
Yue urged the government to raise people's awareness of social relief policies.
"To achieve those goals we need to build a strong group of social workers to offer help and information to the public," Yue said.
A doctor at Peking University People's Hospital, who wished to remain anonymous, said on Thursday that the current medical insurance system had played only a limited role in covering expenses incurred by people who suffered from special diseases.