Hong Kong's traffic, known as one of the world's densest, is also renowned for its orderly pattern thanks to its scientific road designs, advanced public transportation system, effective traffic control measures and self-disciplined residents.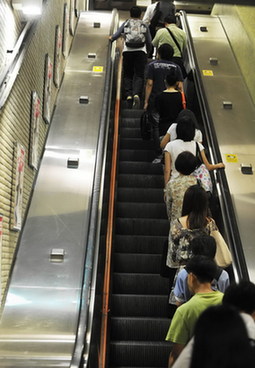 Subway passengers line up on the right side of an escalator during rush hour in Hong Kong. [Photo/Xinhua] 
The roads in Hong Kong are generally two lanes or four lanes, which is fewer than in cities such as Beijing or Shanghai, yet cars run in an orderly manner with no mess.
A reporter from Xinhua News Agency took a one-day tour of major traffic spots to get the real experience of Hong Kong's traffic situation.