Supplier of disabled 'slave labor' detained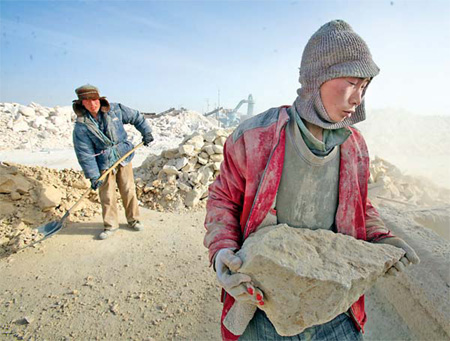 Mentally disabled workers are forced to toil in appalling conditions at a building materials factory in Toksun county, the Xinjiang Uygur autonomous region, last Saturday. [Qin Peng / for China Daily] >>More Photos
BEIJING / URUMQI - Police arrested a Xinjiang sweatshop owner and his son as they freed 12 mentally ill enslaved workers.
Helped by colleagues from Sichuan, police from the autonomous region's Toksun county detained Li Xinglin at 6 pm on Tuesday in Chengdu, the capital city of Sichuan province. Li had fled Xinjiang by train after local media disclosed his abuse of mentally ill people in his factory.
His son, Li Chenglong, was also detained, after fleeing on a bus with the 12 workers. The rescued workers were placed in the care of local authorities.
Earlier, police in Sichuan detained a suspect for supplying the workers to Li's sweatshop.
Authorities investigating an asylum for the disabled in Quxian county, Sichuan, said on Tuesday that they believe the owner not only sold eight mentally ill people to the factory in the Xinjiang Uygur autonomous region, but also sold dozens more to work in other parts of the country.
"Since 1996, Zeng Lingquan has sent at least 70 mentally disabled people to work in Beijing, Tianjin and other cities," said Yi Hongqu, an official with a disabled people's association in Quxian county, citing Zeng's confession.
Zeng was detained on Monday evening after a report by the Xinjiang Metropolis News disclosed the abuse in the Xinjiang factory.
"The abused are mostly between 20 to 50 years old," Yi said, adding that his association joined local police and other departments to investigate Zeng's unregistered asylum in Xingfu village.
"Zeng does not even know the names or the exact number of those abused. The figure of 70 was found in a 2008 book of accounts he kept.
"Some were sent to Zeng's shelter by their parents, some by kind-hearted people, and some were taken there by Zeng."
Yi said they never heard about Zeng's asylum before, which covers several hundred square meters.
Quxian county officials said Zeng was detained for selling people under his care to a building-materials factory in Toksun county in Xinjiang, where they were enslaved.
The factory, Jiaersi Green Construction Material Chemical Factory, was registered on July 16, 2006. Covering more than 6,667 sq m, it produces quartz sand.
Reporters from the Xinjiang Metropolis News were tipped off that Jiaersi was using mentally ill workers. They went to the factory and interviewed the owner about pollution as a cover to view conditions there on Friday. Reporters found the floor of the workshop was covered with thick dust, but workers had no masks.
Some neighbors of the factory told the newspaper that similar plants in the area were closed from October to March, but workers at Jiaersi worked all year round without pay.
Li Xinglin, the factory owner, told reporters that he signed contracts with Zeng to use the mentally disabled workers, saying he was "performing philanthropy".
The report aroused widespread publicity and resulted in prompt action, and the factory has been closed.
Li and his son fled to Sichuan on Sunday, Yang Jin, deputy county chief of Toksun, said on Tuesday. Li's wife is currently in police custody.
A middle-aged woman living nearby said she was an aunt of one of the workers and said he is mentally disabled because of intermarriage.
"His parents asked us to bring him from Sichuan to Xinjiang to get rid of the family burden," she said. "At least he can earn himself a living here."
When the worker was asked about his salary, slowly he said "3,000 yuan ($450)", but later changed that to "10,000 yuan".
Hong Deyi, deputy director of the rehabilitation center of the Xinjiang Disabled Persons' Federation, strongly denounced the "slavery-like practice".
"The country encourages and subsidizes factories and companies that employ disabled people. However, the case is totally different since they were forced to work. They lost contact with their families and custodians."
Xinhua and Huang Zhiling contributed to this story.