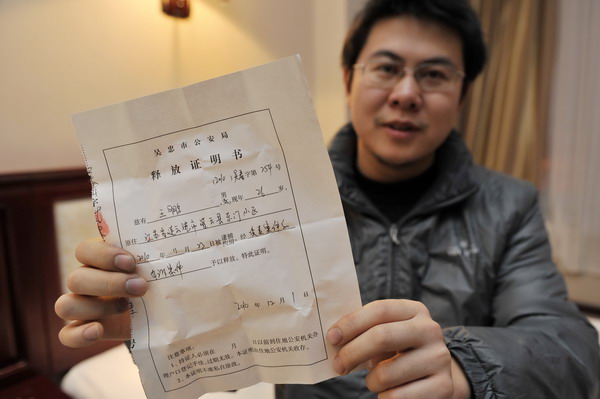 Wang Peng shows a certificate of release issued by the public security bureau of Wuzhong city, the Ningxia Hui autonomous region, on Thursday in a hotel room in the city. [Wang Peng/Xinhua]
BEIJING - An informant who had been under criminal detention after being charged with defaming a former classmate was released on Thursday morning in the latest instance of police mishandling a case.
The case holds all the elements that comprise daily household conversations in China, such as the children of high-ranking officials, alleged nepotism in the recruitment of public servants and police abuse of power.
Wang Peng, 26, who works as a librarian in Lanzhou, capital of Gansu province, was held for nine days in a criminal detention center in Wuzhong city in the Ningxia Hui autonomous region of Northwest China, Xinhua News Agency reported.
Wang had been accused of defaming former classmate Ma Jingjing, 25, by questioning how he acquired his current job as an official of the Communist Youth League committee in Yinchuan, capital of Ningxia, said Wang Zhichang, Wang's father.
Wang Peng could not be reached for comment on Thursday because his mobile phone was switched off.
Police misconduct took place in handling the case, according to a document issued on Thursday by Wuzhong's public security bureau. Once the irregularities came to light, charges against Wang Peng were immediately dropped and the bureau said those responsible would be held to account.
Two senior police officers were removed from their posts earlier on Thursday for their involvement in the case, the document said.
"A senior local police officer has apologized to my son for their misconduct," said Wang Zhichang.
The issue of compensation has been discussed with the police, said Zhou Ze, Wang Peng's lawyer.
"Wang Peng will go back to work tomorrow," he added.
The police had abused their power and authority in detaining Wang Peng and commencing public prosecution procedures, said Zhou Guangquan, a law professor at Tsinghua University.
In China, only defamation cases that cause serious damage, such as disturbing the social order or harming national interests, can result in a public prosecution. None of those circumstances applied in Wang's case, Zhou said.
Rather than detain Wang Peng, the Wuzhong police could only advise Ma to file a civil defamation suit against him, Xinhua reported.
Even if a public prosecution is brought, police in Wuzhong have no authority to detain Wang Peng in another city, according to the relevant laws.
The case unfolded on Oct 15 when Ma reported Wang Peng to the Litong police station in Wuzhong for allegedly defaming him and asked for his arrest.
On Nov 23, police from the station detained Wang Peng in Lanzhou and then kept him in criminal detention.
Wang Zhichang sought legal advice on his son's predicament on Nov 28 in Beijing, where he released details of the incident to the media.
Ma had complained that since July 2007 Wang Peng persistently made allegations to his employer and authorities in Ningxia about nepotism playing a role in his recruitment.
Wang Peng had also posted the allegations online, which damaged his reputation and that of his family, Ma claimed.
Wang Zhichang said he had suspected some sort of conflict had occurred between his son and Ma around the time of their graduation.
Ma Jingjing's father, Ma Chonglin, is vice-director of the poverty relief office of the autonomous region, and his mother, Ding Lanyu, is chairperson of Wuzhong city committee of the Chinese People's Political Consultative Conference.
Their official titles prompted speculation that they may have used inside connections to help Ma land his current job. However, authorities in Ningxia produced copies of a test Ma took as part of the recruitment procedure to refute the claims.