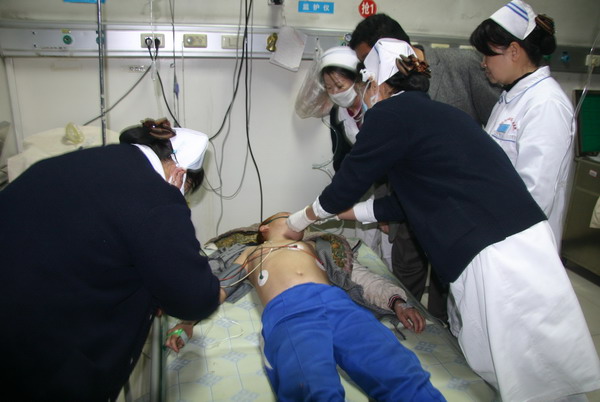 A student receives treatment at a hospital in Aksu, Xinjiang Uygur autonomous region, on Nov 29 after he was injured in a stampede at a local primary school. [Photo/Xinhua] 

Lack of awareness, overcrowding and unwatched stairs pose risk to students, experts say. Shao Wei in Aksu and Hu Yinan, Cao Li in Beijing report.
Mahmut Memet has only a vague memory of the stampede in which he and other students were injured on Monday.
Related readings:


School stages stampede drill 


41 students injured in school stampede 


School resumes class after stampede 
The last thing he remembers is running down the stairs at Aksu No 5 Primary School and seeing classmates ahead of him tumbling on top of each other. Then everything went dark.
"It's frightening," he said. "The students from higher grades are all taller and stronger. I don't know how many times they trampled on me."
The 10-year-old, who escaped with minor chest and stomach injuries, was among the 123 children rushed to hospital that afternoon in the Xinjiang Uygur autonomous region. The children have since been discharged or are in stable condition following treatment, according to city health authorities.
However, safety experts say the accident could have been far worse, and warn that overcrowding and poor safety standards in schools are putting lives at risk.
"There are hazards everywhere" in our nation's schools, said Zhang Yutang, 61, a retired professor at Sichuan Normal University, although "staircases are probably the most lethal".
Zhang has looked into the causes of 28 school stampedes in the last decade and said he believes the majority could have been avoided.
"If teachers were posted on stairwells to keep order, if schools had more and wider staircases and if students were educated in what to do in an emergency, these accidents simply wouldn't happen," he said.
An investigation team of education and health officials headed by Jin Nuo, vice-chairman of Xinjiang's government, is now looking into Monday's incident in Aksu, which occurred as students headed to the playground for exercises.
Initial eyewitness reports suggest the stampede started when several children lost their footing on the 1.5-meter-wide steps.


Safety awareness
China has at least 210 million primary and secondary school students, with another 22 million enrolled at kindergartens, show official figures.

According to a 2007 joint study by the ministries of education and public security, roughly 16,000 children die in accidents and "abnormal circumstances" every year. The final report states about 80 percent of these deaths are "preventable".
This year has been a particularly bad one for education authorities. In spring, officials were forced to beef up security at schools nationwide following a string of random attacks that left 18 children and two adults dead and another 80 people injured.
Armed guards were placed at school gates in densely populated metropolises like Beijing to remote desert towns like Kangbashi in the Inner Mongolia autonomous region.
Yet, the efforts to prevent further violence may have overshadowed the existing loopholes in safety inspections, especially in impoverished areas, such as Aksu, an agricultural city 1,050 km southwest of the regional capital, Urumqi.
Another study by the Ministry of Education in 2005 found that 60 percent of teachers received less than 10 hours of safety training per semester. Officials were unable to provide an updated figure when contacted by China Daily.
This lack of awareness, coupled with inadequate safety measures, is a key factor in school stampedes, said Zhang Wen, deputy director of legal affairs for the ministry's policies and regulations office.
Following a stampede at a high school in Hunan province that killed eight and injured 26 others in December 2009, the Ministry of Education ordered all schools to check the quality of stairs, handrails and stairwell lighting, as well as to replace any damaged or badly installed equipment.
The ministry released a similar statement on Tuesday, when they encouraged "better management of daily student assemblies" and "swift organization of all-out safety checks".
"These incidents are avoidable if people stick to our documents and requirements," an unidentified ministry spokesman was quoted as saying by the People's Daily. "There isn't any room for bureaucracy and formality when it comes to school safety."
Education bureaus in several cities have urged schools to assign teachers to lead groups of students up and down stairs before and after classes and during scheduled breaks.
The majority of schools in Zhengzhou, capital of China's most populous province, Henan, now has teachers managing the traffic flow on every floor.
In Yantai, a coastal city in Shandong province, authorities have ordered all districts and counties to carry out immediate safety checks and to refine evacuation plans.
However, security experts with companies drafted in to protect children following the attacks in spring say that most of schools still need to invest in better overall safety training for teachers and students.
"I have talked to teachers and students and asked them how they should leave the site when an accident happens. They all give me different answers and none of them are correct," said Hao Peng, general manager of CCG Security's branch in Xi'an, capital of Shaanxi province.
"Schools are more aware of safety after (a tragedy)," said Hao, whose firm has contracts with 56 city schools across central and western parts of China.
Cheng Guanyao at CCG Security's Shanghai office added that many schools have already canceled contracts "as they think it's a waste of money now it's not dangerous any more".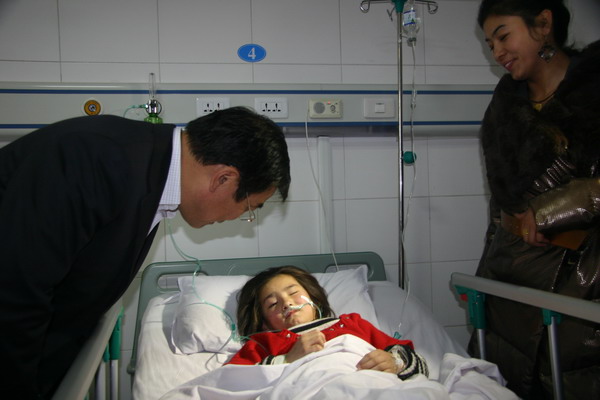 A severely injured victim of the stampede at Aksu No 5 Primary School is visited in hospital by Huang Sanping, Party secretary of Aksu prefecture, on Monday. The accident may have started when a child slipped on the stairs. [Photo/Xinhua]
Slipping up
Guidance issued to schools by the central government states class sizes should be limited to fewer than 45 children. However, media reports suggest that in some areas, particularly those with large concentrations of migrant workers, teachers are taking classes of up to 60.
Although the number of students has grown, the standard of facilities often lags behind.
Investment in rural and remote schools "is still the big problem", complained Zhang Jing, deputy principal in charge of student safety at Zhufang village middle school in Jiangxi province.
He said his school has a population of 1,600, yet the size of the canteen is less than 30 square meters, "barely enough for a kitchen", he added.
Zhang Liugang, a teacher at Shangyi Primary School in Zhengzhou, agreed and added: "Some schools are overloaded. When you have that many students in a confined space, you need someone to control traffic (on the stairs)."
Based on countless on-site inspections he carried out, retired professor Zhang Yutang said many schools' stairways are too narrow and are not fitted with anti-slip flooring.
Slipping and tripping are major contributing factors to stampedes, he said, explaining that the risk also increases depending on the number of floors.
"Most (of these accidents) happen when all students are going downstairs for exercises or at the end of the school day," said Zhang. "A real danger spot is the second floor, which where the greatest volume of traffic is.
"The greater the number of floors, the greater the threat to children's safety," he warned, before suggesting the reason school accidents are more common in winter months is because children wear bulkier clothing "and are more clumsy".
At Aksu's No 5 Primary School, which is a four-story building, the stampede started in the corner of a stairwell connecting the second and first floors.
Classes at the school resumed on Tuesday, the same day Huang Sanping, Party secretary of Aksu prefecture, told a press conference that the government will pay the medical expenses for all affected families.
"Your children are our children," said Xinjiang vice-chairman Jin Nuo during a meeting with parents at Aksu's No 1 People's Hospital. "We will do everything to help your injured children."
The pledge was welcome news for the seven children who suffered severe injuries in the stampede.
Among the worst injured was Mailinar, 8, who on Wednesday was still receiving treatment for head and chest trauma in the hospital's intensive care unit.
"The girl is in a stable condition. She is able to speak now," said Jing Haitao, deputy director of Xinjiang People's Hospital emergency center in Urumqi. He was among two batches of head injury specialists sent to Aksu to help the stampede victims.
The other six students - two boys and four girls aged 7 to 10 - were also in stable conditions, said medics.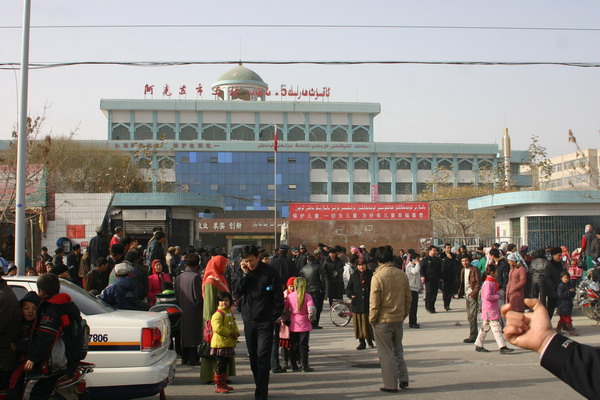 Parents wait for their children at the entrance of Aksu No 5 Primary School after the stampede. [Photo/Xinhua]