Harbin - Born into a Russian medical family, 21-year-old Sosnin Maxim threw down the gauntlet to his parents and the medical community for the chance to study traditional Chinese medicine (TCM).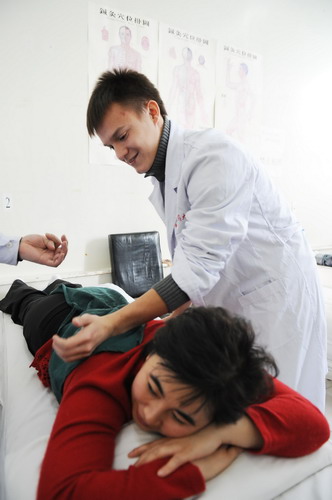 Sosnin Maxim, who studies traditional Chinese medicine at Heilongjiang University of Chinese Medicine in Harbin, massages a patient on Nov 9. [Photo/Xinhua]
"If I have the opportunity to talk to Prime Minister Putin, I would like to tell him how marvelous Chinese medicine is," Maxim said.
However, his first glimpse of China - which is separated from his hometown by the Heilongjiang River - was through watching Bruce Lee movies.
"I admired him so much that I wanted to learn his kungfu," Maxim said.
When he was 12, Maxim started studying kungfu three times a week from a teacher named Nihail, who had learned qigong (breathing exercises) in Beijing.
After more than six years practicing kungfu, Maxim decided to go to China to study TCM, though the family opposed him. Maxim's father and grandparents, who were all Western medical doctors, pinned high hopes on Maxim carrying on their profession.
Often in poor health as a child, Maxim said he would get sick five or six times each winter. "From my own experience, I believe that Western medicine and TCM each have their advantages," he said.
He believes that Western medicine is helpful in emergency situations where "a patient would die without immediate surgery", but TCM is more effective in treating chronic diseases such as diabetes and cardiovascular disease.
However, TCM is seen as unconventional medicine in his home country. TCM cannot be practiced in standard hospitals.
In 2008, Maxim dropped out of university in Russia against his father's will and went to Harbin, capital city of Northeast China's Heilongjiang province.
He spent two years learning Chinese in Heilongjiang University, and entered the Heilongjiang University of Chinese Medicine in September 2010 for a five-year project on acupuncture and Chinese massage therapy study.
Now he has learned the theory of yin and yang, and the five elements of TCM. He also took part in an acupuncture club at the campus and learned tai chi in his spare time.
Away from home for two years, Maxim has not contacted his father, but he plans to go home this winter and hopes his father will understand what his son is doing.
According to official statistics, more than 10,000 Russian students were studying in China in 2009, making Russia the sixth biggest source of overseas students in China.
Inside Russia, 14,700 students are studying Chinese language at college, and another 11,000 are learning Chinese as their second foreign language, Xinhua News Agency reported on Nov 21.
Tian Lin contributed to this story.