Related readings:


 China keeps improving human rights with in'l community


 Progress on human rights


 China releases white paper on human rights

 Progress in China's human rights

BEIJING - A leading Chinese human-rights expert has called for the rule of law to be applied when handling human rights and development issues.
To improve the capacity and level of human-rights protection through scientific development and to smooth relations between human rights and development, law-based governance is needed, Luo Haocai, president of the China Society for Human Rights Studies, said at the opening of the Third Beijing Forum on Human Rights on Tuesday.
Luo also stressed the idea that human rights should not be used as a political tool.
"We should respect 'res judicata' (binding force) of judicial decisions. We should not carp on about binding verdicts made by domestic or foreign courts," he said.
Progress in modernization and human rights are goals long-pursued by the Chinese government and the people, Wang Chen, minister of the State Council Information Office, said at the opening ceremony.
The improvement and development of human rights in China is obvious and China will continue its work to respect and protect human rights, Wang said.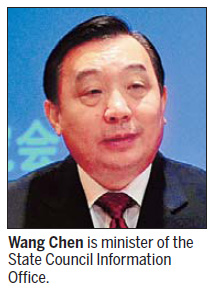 The Beijing Forum on Human Rights is sponsored by the China Society for Human Rights Studies. The theme of this year's forum was "Human Rights and Development."
About 100 senior human-rights officials and experts from 28 countries, the Hong Kong and Macao special administrative regions and Taiwan, as well as international organizations including the United Nations, joined mainland counterparts at this year's forum.
When asked what impressed him most in China in terms of the human rights process, Anders Kompass, director of field operations and the technical cooperation division at the Office of the High Commissioner for Human Rights of the United Nation, said the fact that millions of Chinese were lifted out of poverty over the past decades was an incredible achievement.
Kompass also said the role of a civil society, besides political leadership, is vital in protecting human rights.
"NGOs, human rights organizations and grassroots organizations are key components to help the government implement many human rights policies, and they can also act as a watchdog to make sure the political leadership at all levels is working in the right direction to create a culture of respect and human rights protection," he said.
Protecting cultural diversity has been highlighted as another urgent mission for all people in terms of human rights at the meeting.
Pierre Bercis, president of the France-based New Human Rights Association, pointed out that cultural imperialism exists in today's world in a more disguised way, which leads to increased violence and conflicts.
He urged China to take more responsibility in promoting cultural diversity given its rising political status in the world.
Xinhua contributed to this story.