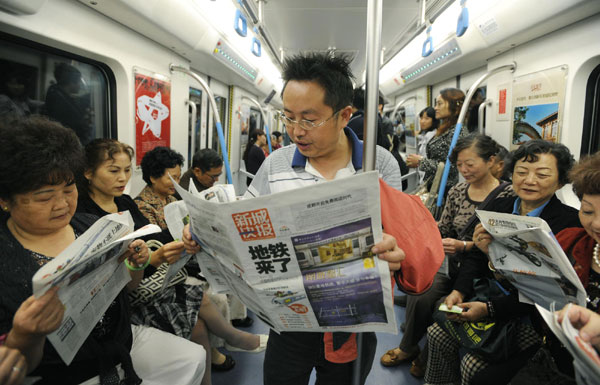 Passengers read newspapers in a subway train in Chengdu city on Monday.[Photo/Xinhua] 
CHENGDU - The first subway in west China was launched on Monday afternoon in Chengdu, capital of Southwest China's Sichuan province.
Related readings:


 Subway line set to open in Northeast China


 Beijing subway's Changping Line in trial operation


 Xi'an Subway Line 2 makes big strides


 4.8m subway commuters every day in Beijing

Chengdu Subway Line One runs between northern and southern Chengdu over a distance of 18.5 km with 17 stations, said Yu Bo, chief engineer of Chengdu Metro Co, Ltd, builder and operator of the line.
The subway's construction began in 2005 with an investment of about 8 billion yuan ($1.19 billion).
The subway operates from 7 am to 9 pm with an interval of 10 minutes between trains. It is designed to carry 180,000 to 200,000 passengers per day.
Chengdu will accelerate its subway construction in the next few years. It plans to have a 298 km subway system, carrying more than three million passengers per day by 2020, Yu said.