BEIJING - China successfully launched the SinoSat-6 satellite for radio and television broadcasting at 12:14 am on Sunday morning at the Xichang Satellite Launch Center in Southwest China's Sichuan province.
The satellite was carried into space on the Long March 3B rocket, which took the SinoSat-6 into a geostationary transfer orbit 26 minutes after the launch.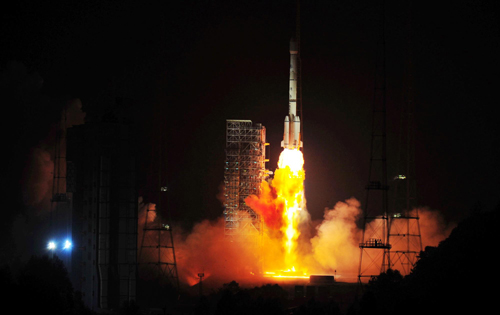 The "SinoSat-6" satellite blasts off from the launch pad at the Xichang Satellite Launch Center in Southwest China's Sichuan province on Sept 5, 2010. [Photo/Xinhua]
SinoSat-6 will replace SinoSat-3, which was launched on June 1, 2007, despite the latter having a design lifespan of eight years.
Related readings:


 China successfully launches satellite for TV, radio live broadcast


 China launches new mapping satellite


 China launches remote-sensing satellite 'Yaogan X'


 China to launch high-resolution mapping satellite
According to media reports, SinoSat-3 experienced a malfunction in July 2009, resulting in a brief disruption to the transmission of some satellite TV channels in China.
Li Guo, the chief designer of SinoSat-6, said the new satellite has a longer lifespan of 15 years and a larger capacity than SinoSat-3, enabling it to transmit signals not only to China, but to neighboring countries and regions.
The China Aerospace Science and Technology Corporation (CASC), which researched and produced the satellite, said on Sunday that SinoSat-6 would mainly serve for relaying live TV and radio broadcasts, and would enrich the lives of those who live in remote and mountainous areas.
Experts said the successful launch proved that the domestic-developed Dongfanghong IV (DFH-4) satellite platform is reliable.
The DFH-4 is China's third-generation, large-capacity communications satellite platform.
China's first direct broadcasting satellite, SinoSat-2, was launched in 2006 and used the DFH-4 platform. It was later revealed that it was inoperable, because it failed to deploy its solar panels and communication antenna.
"The launch (of SinoSat-6) was a remarkable event that demonstrated the DFH-4 platform has become mature," said Pang Zhihao, a researcher and the deputy editor-in-chief of the monthly Space International.
The successful launch will also help attract more international customers, he added.
The SinoSat-6 is the ninth satellite to be operated by the China Satellite Communications Corporation under the CASC.
It is expected to work at a longitude of 126.4 degrees east, 35,700 kilometers above the equator, according to the CASC.
In the following days, Xi'an Satellite Control Center and the Yuanwang tracking ship will maneuver the satellite's position and transfer it to its geostationary orbit, the CASC said.
China is also planning to launch a further communications satellite, SinoSat-5, in 2011, according to reports. Currently under development, SinoSat-5 is expected to replace SinoSat-1, the first SinoSat satellite, launched in 1998.
China Daily - Xinhua