XIAMEN, Fujian - China bucked international trends in both outbound and inward investment, official figures have revealed.
China now ranks as the fifth largest global investor in outbound direct investment (ODI) with a total volume of $56.5 billion, compared to a ranking of 12th in 2008, the Ministry of Commerce said on Sunday.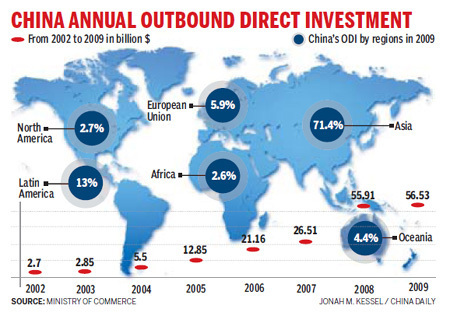 On top of this, foreign direct investment (FDI) this year was set to "surpass $100 billion", compared to $90 billion last year, ministry officials predicted.
Related readings:


 FDI flowing in even as labor costs rise


 Better to assess China's FDI climate with companies' actions


 China has 'slim chance' to be top FDI site


 Govt pledges support for FDI


 China to further support foreign investment as FDI surges
Globally, foreign investment decreased by almost 40 percent last year amid the financial downturn and is expected to show only marginal growth this year.
The growth in both outbound investment from, and inbound investment to, China reflects the nation's rising economic power and attractiveness as an investment destination.
The ministry made the announcements during a press conference held in Xiamen on the upcoming United Nations Conference on Trade and Development (UNCTAD) World Investment Forum and the 14th China International Fair for Investment and Trade. Both forums will start on Tuesday.
According to the ministry, China's ODI grew by 1.1 percent from a year earlier to $56.53 billion, which includes investment of $47.8 billion in non-financial sectors worldwide, up 14.2 percent year-on-year.
Last year was the eighth consecutive year that the nation's ODI had grown. In this period the average annual growth rate stood at more than 50 percent.
"China is now the fifth largest investing nation worldwide, and the largest among the developing nations," said Shen Danyang, vice-director of the ministry's press department.
In 2009, global ODI volume reached $1.1 trillion, and China contributed about 5.1 percent of the total.
But "this is just a beginning." Although the figure is already "quite amazing," the volume is "not large enough" considering China's economic growth and local companies' expanding demand for international opportunities, Shen said.
"The growth rate (for ODI) in the next few years will be much higher than previous years," Shen said, without elaborating.
China's ODI growth witnessed strong momentum this year. From January to June, the ODI in financial sectors was up by 43.9 percent to $17.84 billion, and in July alone, the ODI recorded $8.91 billion, the highest this year.
Liu Zuozhang, director of the investment promotion agency under the commerce ministry, told China Daily that China's ODI in non-financial sectors would probably grow to $60 billion this year.
But while more Chinese companies were investing overseas, barriers and protectionism against Chinese investment were strengthened as well.
Fan Chunyong, standing deputy chief of the China Industrial Overseas Development and Planning Association, said the challenge would not affect the upward trend of the ODI.
"China's ODI will go up to $100 billion in 2013, and the Chinese accumulative overseas investment will reach $500 billion by then," said Fan.
According to the ministry, by the end of 2009, 13,000 Chinese enterprises had invested in 177 nations and regions worldwide, and the largest volume of funds went to the Asia-Pacific region. Europe and Africa ranked second and third in absorbing Chinese investment.
Figures also revealed that more Chinese enterprises were focused on developed nations and emerging markets. During the first half of the year, China's ODI to the United States and the European Union rocketed by 360 percent and 107.2 percent respectively year-on-year. And investment into ASEAN and Russia grew by 125.7 percent and 58.5 percent.
Jinny Yan, economist from Standard Chartered Shanghai, predicted that the EU would continue to be a hotspot for China's outbound investment in the coming months thanks to the ongoing European debt woes.
As for FDI, Shen predicted it would reach a record high of $100 billion this year as China's consumption capacity gradually picked up and the nation's efforts on creating an open and transparent investment environment paid off.
Responding to recent complaints by foreign businesses on the "worsening" investment environment, he said it "highlights foreign businesses are attaching more importance to the Chinese market".
A report by the European Chamber of Commerce released last Thursday said China had made progress on improving its investment environment, but still needed to do more, especially on market access and the regulatory environment.
While global FDI slumped by almost 40 percent last year, China's FDI was down by a mere 2.6 percent, according to the UNCTAD. China remained the second largest recipient nation of FDI, following the US.
During the first seven months, China's FDI increased by 20.7 percent to $58.35 billion, and FDI in July surged by 29 percent.
Zhan Xiaoning, director of the investment and enterprise division under the UNCTAD, said China was taking the leading role in the FDI recovery worldwide, even though FDI growth was not a cause for optimism globally.