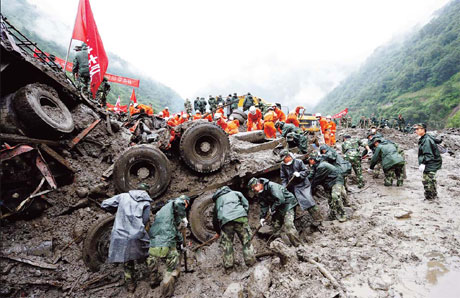 Rescuers search for survivors after mudslides leveled a remote village of Puladi township in Gongshan, Yunnan province, early on Friday. The disaster left at least 12 people dead as well as 80 others missing and 40 injured. [Lin Yiguang / Xinhua]
Country hit by tenfold increase; extreme weather 'partly to blame'
BEIJING - The country recorded more than 26,000 geological disasters in the first seven months of this year, nearly 4 times the number in the same period last year, Minister of Land and Resources Xu Shaoshi said on Friday.
The disasters, ranging from landslides to ground subsidence, left 843 people dead or missing and led to direct economic losses of more than 3.34 billion yuan ($491 million), Xu said in an interview excerpt posted on the ministry's website.
Related readings:


 Securing lifelines for disaster


 Special Coverage: Post-disaster life in Zhouqu


 Horrors and heroes of natural disaster


 Natural disasters likely to continue


 Flood-triggered disasters kill more than 1,450 Chinese
Xu attributed the disasters to frequent extreme weather such as severe droughts and rainstorms, as well as to the impact of seismic activities.
China is still facing a tough situation in preventing geological disasters, Xu said. August and September are the main flooding seasons in the country and there is still the possibility of torrential rains in some regions, the minister said.
Geological disasters have become natural disasters that cause the second-largest number of casualties in the country, only after earthquakes, Xu said.
Xu said that although the country's urban and rural areas have been undergoing rapid development in recent years, lack of attention on geological surveying and evaluation during residential construction has left many challenges from geological disasters.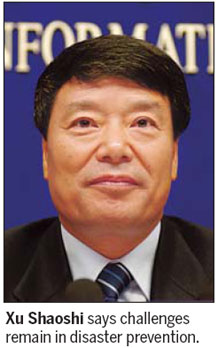 From 1999 to 2008, the Ministry of Land and Resources identified about 240,000 places in 1,640 mountainous counties that were vulnerable to geological disasters and put them under inspection, Xu said.
The efforts have successfully avoided more than 5,000 disasters so far and saved more than 250,000 potential victims, Xu said.
But the inspection is far from being completed, the minister said. About one-third of the areas where disasters occurred this year were not among the locations under inspection.
Geological disasters such as landslides and mudslides cannot be adequately predicted by current scientific means, Zhang Zuochen, a geologist with China University of Geosciences, was quoted by the Beijing News on Friday as saying.
"We can only predict that a gully is vulnerable to a mudslide and that the disaster will occur under specific circumstances. But we cannot predict when it will occur," Zhang said, adding that it is also a challenge for geologists worldwide.
Tao Qingfa, deputy director of the geological environment department of the Ministry of Land and Resources, suggested that local governments of disaster-prone areas direct more funds into disaster prevention. There should also be wider coverage of inspection spots and more inspection organizations and staff at the grassroots, Tao said.
Allowing residents to be more involved in disaster prevention and cooperation with disaster inspection departments are also important, Tao said.
Similarly, cooperation among meteorological, water resources, financial and transportation departments should also be enhanced, Tao said.