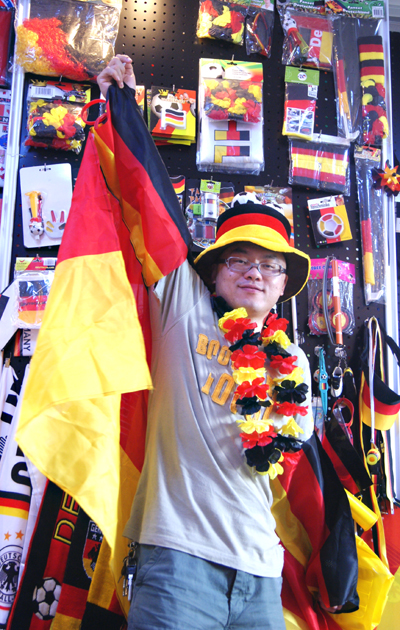 Wang Rongcheng
SHANGHAI- Now that the 2010 FIFA World Cup South Africa is over, no one is looking more forward to the next one than Wang Rongcheng.
For Wang, a wholesaler based in Yiwu, the world capital of small commodities in Zhejiang province, the World Cup means gold.
By selling national flags and other soccer paraphernalia, the 32-year-old Zhejiang native made more than 20 million yuan out of the most-watched sports event on earth this year.
From national flags alone, he cashed in more than 9 million. He also sold wigs, vuvuzelas, scarves, hats and wristbands—actually his company, called Yiwu Bob Trading Company, sells everything imaginable that a soccer fan might ever want.
About 2,000 kinds of soccer-related products are housed in the company's showroom, which measures nearly 20 square meters.
"National flags are my main business, but the one thing that helps my company stand out among other trading companies doing similar business is that we have a complete product line," said Wang, who started his company in 2005 after graduating from college in 2000.
"If a foreign buyer comes to our company, they don't have to go to another. We basically have everything they ever want to buy during a World Cup," he said.
Wang's company purchases directly from local manufacturers, then sells to foreign buyers, mainly companies in Europe, making a profit.
Wang gets most of his customers through the Internet, where he lists more than 1,500 pictures of products under 60 categories, ranging from bandanas to key chains, from team flags to scarves.
"I do business directly with foreign companies, there is no Chinese agents above me, so I have a better profit margin," he said.
He added that another advantage of doing business with foreigners is that they are generally more honest than Chinese companies.
"You guarantee your product quality, delivery time, and then there would not be further troubles, like delay in payment or order cancellations."
Wang dug out his first pot of World Cup gold in 2006 during the Germany World Cup.
"One of my clients said they wanted national flags and asked me if I have any, and I said 'yes,' and then there comes the business," he recalled.
In three months that year, he sold more than 5 million yuan worth of national flags.
"I realized then the World Cup is a golden opportunity. So this year I did a lot of preparation, extending my product line, enlarging my customer base, and my business stepped up a level," he said. "I can't wait for the next World Cup to come."
Wang is not the only one who has been riding the World Cup tide in Yiwu, a county-level city that has been at the epicenter of China's manufacturing boom in the last 20 years.
In fact, the Yiwu Small-Commodity Market has topped China's 100 top open markets for six consecutive years. It has also become the banner of China's market economy featuring a large variety of quality but cheaper commodities.
It's been reported that more than 60,000 enterprises of various sizes in the city profited from the World Cup this year.
Statistics from Yiwu customs show that Yiwu exported more than $80 million worth of sports goods to the outside world in 2009.
Since December last year, the city's sports goods export exceeded 10 million yuan every single month. And the added number in the first five months this year reached 65 million, more than double the same period last year.