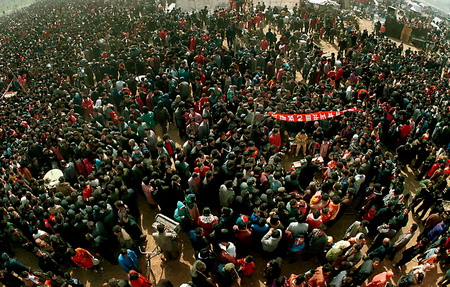 More than 200,000 people attend a folk art festival during the first month of the Chinese New Year in Baofeng county, Henan province. [FILE PHOTO]
BEIJING - China's most populous province, Henan, will become the first province with more than 100 million permanent residents later this month, giving it a population triple the size of Canada's - in 1/60 the area.
A largely rural and less developed province in Central China, Henan is the source of many of the country's migrant workers who have helped transform the nation into the world's third-largest economy.
Related readings:


 China's population set to reach 1.4 billion by 2015


 China home to 211 million floating population


 Aging population may be catalyst for change


 Beijing population to reach 21m by 2020
Henan's population soared from 40 million in the 1950s to about 90 million in the 1990s, and while it will soon hit 100 million, the rise has slowed notably over the past two decades, the Population and Family Planning Commission of Henan said on Sunday.
The commission said that without the family planning policy introduced three decades ago, Henan's population would now have an estimated 33 million more people, and its population would have hit 100 million 13 years ago.
Henan governor Guo Gengmao earlier said that the province would stick to the family planning policy.
"Any change in the policy would seriously affect our population control target and hinder the development of the province," he told a provincial population working conference in June.
Henan aims to keep its population under 101 million by the end of the year and under 107 million by the end of 2020.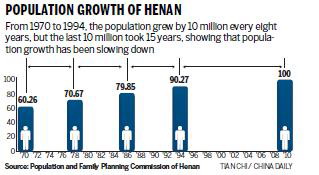 According to the National Population and Family Planning Commission, the population on the Chinese mainland will reach 1.39 billion by the end of 2015, among which as many as 700 million people will be living in urban areas, exceeding the country's rural population for the first time.
The world's most populous province is India's Uttar Pradesh state, with 166 million people.