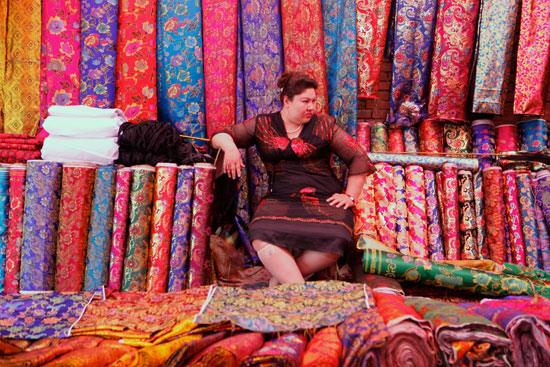 A woman sits at a silk store in the grand bazaar of Kashgar in the Xinjiang Uygur autonomous region, in this picture taken in early June. [China Daily]
Kashgar is set to become an economic development zone (EDZ), as part of government efforts to transform the city into a prosperous trading post for China's Central Asian neighbors.
Authorities have announced they will introduce preferential investment and taxation policies to boost investment in this ancient city in the Xinjiang Uygur autonomous region, which borders Kyrgyzstan, Afghanistan, Uzbekistan, Tajikistan and Pakistan.
"After detailed research, the central government has decided to build an EDZ in Kashgar," Wang Yongzhi, deputy commissioner of the governing prefecture (also called Kashgar) and the man in charge of the area's economic development, told China Daily.
"None of the policies will be finalized until the end of this year at the earliest," he said.
The EDZ is also expected to ease the high unemployment rate in the prefecture as well as improve trade links.
However, due to rumors circulated throughout the city since May, when the central government hosted its first working conference on Xinjiang in 60 years, most residents believe Kashgar is about to become the next Shenzhen - China's first and arguably most successful special economic zone (SEZ).
"We're going to be the next Shenzhen," said 30-year-old taxi driver Abula Mijit excitedly as he drove through the streets of Kashgar.
"Everyone is talking about it."
From traders to tailors, the prospect of Kashgar becoming the Shenzhen of West China has been a hot topic in recent months.


Goats file across a road that leads to Khunjerab, a border port in Kashgar prefecture in the Xinjiang Uygur autonomous region. The city of Kashgar is to be made into an economic development zone to boost trade. [China Daily]
Shenzhen, located in Guangdong province and just across the border with Hong Kong, was a small fishing village 30 years ago when it was designated as the country's first SEZ.
Today, it is a modern metropolis with a vibrant economy and a population of about 8.9 million people.
The western parts of China do not yet have any SEZs and, as Kashgar is close to four land ports bordering Kyrgyzstan, Tajikistan and Pakistan, and has an international airport, the city is for many people the perfect choice.
"As the place that links China and Central Asia, Kashgar could be developed into a major trading and logistical bridge," said Akbar Hupur, commissioner of Kashgar prefecture.
However, Hupur now will have to settle for the time being with an economic development zone, which is smaller in scale than an SEZ and has less preferential policies than an SEZ.
Rocky road
Workers erect scaffold ahead of a commodity fair at the People's Square in the city of Kashgar. [China Daily] 
Kashgar is already a major exchange for retailers from Central Asia. Every Sunday, traders - mostly Uygur people - gather at a market near the "old town" that is stocked with cheap goods from across China, from hair clips to plastic sandals, which Central Asian businessmen and women snap up in bulk.
"Kyrgyzstan, Tajikistan and Pakistan heavily rely on supplies from China," said deputy commissioner Wang. "The EDZ is expected to attract enterprises to manufacture in Kashgar, who would then ship their products to those countries."
About 65 percent of products sent over the border from Kashgar last year were garments, while daily essentials made up 30 percent. So the first step, said Wang, is for the EDZ to target enterprises specializing in those sectors.
But even setting up an economic development zone will be a challenge for the authorities due to the city's poor infrastructure.
The EDZ will be based on the existing Kashgar Central and Southern Asia Industrial Park, which is close to the airport and downtown areas. Although only 5 square kilometers, the park will initially be expanded to 8.5 square kilometers and is expected to reach 160 square kilometers.
At the moment, the park has a smattering of just 20 or so small manufacturers and the streets are deathly quiet during the afternoon. Empty warehouses can be found around almost every corner.
"The electricity and water supplies are really unstable here," said Cao Gang, a 23-year-old worker who was wandering around the park because the power to his factory had gone off. "No wonder lots of businesses moved out of here and no one wants to come."
Roads in the region are also a problem, and trade with Pakistan has been seriously affected this year due to an avalanche lake that formed on a major route.
"No vehicles could get through," said Fei Lixin, customs commissioner at Khunjerab Port, the only land channel between China and Pakistan, who added that the issue has still not been resolved.
Khunjerab Port, 430 km from Kashgar in Taxkorgan county on the western Pamirs plateau, is 4,700 meters above sea level and only opens between May and December because of the extreme winter weather conditions. Only one truck carrying road construction machinery was parked in the port's large parking lot when China Daily reporters visited this month.
"The parking lot would be packed at this time of the year if it was not for the avalanche lake," said Fei.
Muhamaad Usman, owner of the Karachi-based Usman International, said he is frustrated because he was unable to ship the hard coke he had bought back home through Khunjerab Port.
"I really enjoy doing business in Kashgar. It is very important for Pakistan and Central Asia," said the businessman. "Although its infrastructure, like the road conditions, is relatively poor, it has great potential. I am glad the Chinese government has realized that."
Almost all of the 60,000 tons of export goods Khunjerab dealt with last year were daily essentials and electronic products, shipped all the way from Yiwu in East China's Zhejiang.
"The market in Pakistan is huge," said Usman. "By establishing an EDZ and allowing companies to manufacture products in Kashgar that Pakistan needs could substantially cut shipping costs, which could help companies gain a great competitive advantage."
Border checks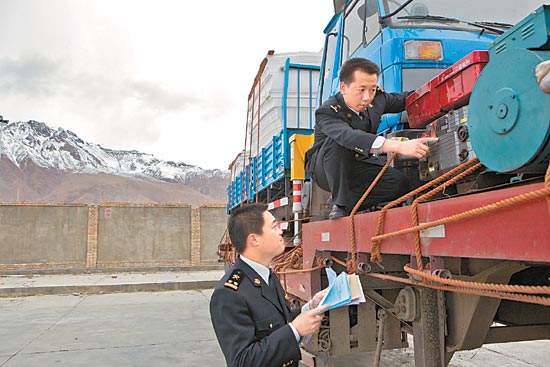 Custom officers at Khunjerab Port check exported goods on the back of a truck. [China Daily]
Security is another major challenge facing the future of Kashgar due to its sensitive location - and the fragile state of some of its neighbors.
As well as the ongoing war against the Taliban in Afghanistan and Pakistan, trade with Kyrgyzstan has also been badly affected following the recent ethnic violence that killed 214 people.
"Trade between Kashgar and neighboring countries depends on their economic development and social stability," Zou Meidiao, director of the managing committee at Turgart Port, which lies on the border, 165 km north of Kashgar.
"The (ethnic) unrest has brought trade between the two countries to a standstill," said Zou. "Although the market in Kyrgyzstan is huge, it is less developed and sometimes unstable, which constrains trade."
Also, Kashgar - where the population is 94 percent Uygur, the majority of whom are Muslim - has for a long time been the frontline in China's battle against separatist, extremist and terrorist influences from abroad.
"The city needs to be opened up more to neighboring countries," said a high-ranking official with the prefecture's Party committee who did not want to be identified, "but doing so requires much stronger border controls."
Khunjerab Port currently lacks any advanced screening equipment, and customs officers must check every truck manually, which severely limits the number that can pass through. High-tech X-ray machines will be installed this year, said commissioner Fei.
"Our officers have to be extra careful because people keep trying to smuggle in guns and drugs from Pakistan," he said.
Yuan Youjun, who runs one of the largest logistics companies in Kashgar, suggested authorities should relax some regulations to help businesses. The entrepreneur said that city officials are sometimes very sensitive about security issues.
"To get a passport for my drivers (about 90 percent are ethnic Uygur), we have to get a dozen stamps from different authorities," he explained, whose firm has been badly affected by both the avalanche lake in Pakistan and the ethnic violence in Kyrgyzstan.
The Party committee official revealed that the prefecture is considering allowing Kyrgyzstan, Tajikistan and Pakistan to set up visa offices in Kashgar, making it easier for Chinese businesses to get visas for their staff. (Currently all applications must be made in the regional capital, Urumqi.)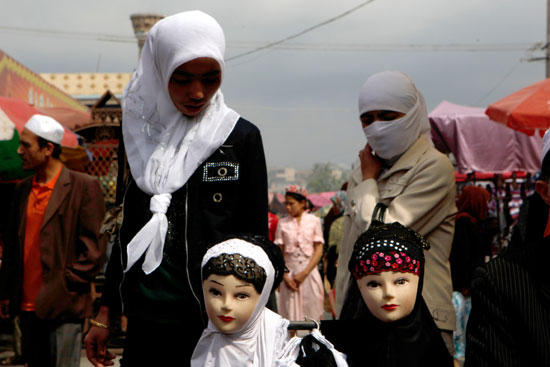 Two Uygur women select scarves at a bustling bazaar in downtown Kashgar city on a Sunday morning. [China Daily]
He also suggested trucks from overseas should be allowed to load and unload in the EDZ, rather than at one of the nearby ports to reduce their transport costs.
The fact is that only about 50,000 people and 4,000 trucks passed through Turgart last year - considerably less than the number that goes through Shenzhen every day.
Zou at Tugart Port said he feels the EDZ move may help maintain social stability.
He could have a point. Companies that move to Kashgar's EDZ will bring jobs, helping to ease the unemployment rate in neighboring counties like Shufu and Shule. Most of the rioters from Kashgar prefecture involved in last year's July 5 bloody riot in Urumqi were unemployed 16- to 35-year-olds.
However, the EDZ is unlikely to halt the city's soaring property prices, another potential source of frustration for residents.
"The average price of this property increased 600 yuan ($88) per square meter to 3,400 yuan after the rumors of Kashgar becoming an SEZ and it is still going up," said Sun Wen, a 28-year-old sales girl at a residential development in the city center.
She was also disappointed when she was told the city would not become an SEZ.
"Well, that's bad. We were so looking forward to that," she said, before quickly adding: "Please don't tell my customers."