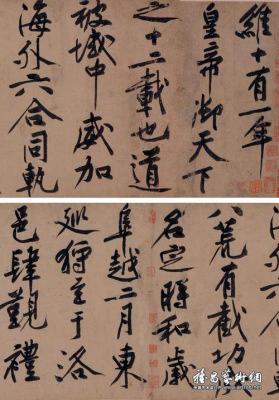 A picture of part of the calligraphy work
Dizhu Ming (Inscription on the Chief Cornerstone).
[Photo/Artron.net]
A Song Dynasty calligraphy was sold for a historical high of 390 million yuan (about US$57.1 million) at the Poly 2010 Spring Auction on Thursday, the Beijing Business Today reported Friday.
Dizhu Ming, a calligraphy work by Huang Tingjian, a calligrapher of the Northern Song Dynasty (AD 960-1127), was written in the Chinese running script style on a 15-meter scroll, which is Huang's longest existing work.
The sale also broke the record for calling price for single items, with 10 million yuan per bid at the auction.