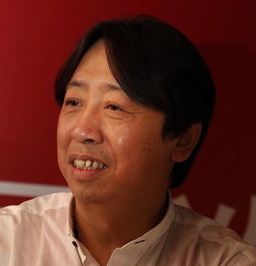 Zhang Wuben addresses a press conference in Beijing on May 26.[File Photo] 
SHANGHAI - Increasing attention to health and rising disappointment with the current medical system are causing millions of health-conscious Chinese to be easily tricked by profiteers.
Zhang Wuben, a once-popular Chinese diet therapist, who claimed that mung beans and eggplant could cure many chronic diseases, has recently been found to have faked his credentials.
The 47-year-old retired textile worker in Beijing began to spread his "magic" diet regimen in lectures last year. Moreover, despite consultation fees of up to 2,000 yuan ($294) and months of waiting, thousands of patients went to Zhang's clinic seeking out food therapies.
The medicine Zhang prescribed, however, was simply mung beans, eggplant, yam or corn. Some investors even called him a "perfect salesman" for the recent price surge in mung beans, as people rushed to buy it as a remedy for disease.
"Zhang's popularity reflected increasing public attention to health and a huge demand for health-related products. That's why many health products are on the market now, though many of them are probably illegal," said Wen Jun, professor of East China Normal University Institute of Social Development.
"On the other hand, the public's disappointment with conventional treatment in hospitals forced some people to turn to alternative methods. The difficulty and high cost of getting medical service keeps them away from hospitals and has them seeking quick solutions.
"Their eagerness for health was captured by some businessmen and was easily exploited," he said.
Zheng Yi, a 30-year-old Shanghai resident, shows his despair when talking about his "terrible experience" in a hospital.
"My wife suddenly got a fever two years ago and we immediately went to a famous local hospital where a low-spirited doctor checked my wife carelessly," he said. "We spent quite a long time queuing up for medical checkups, which cost us more than 1,000 yuan. But the doctor, looking at a pile of inspection reports, said the cause was uncertain. You cannot imagine how depressed my wife and I were at the time," Zheng said.
On Wednesday, Zhang Wuben's clinic, Wubentang, located at the Beijing Olympic Stadium Center, was demolished as "unauthorized construction".
During the investigation, health department officials said they did not find any evidence of illegal medical practice by Zhang, who claimed to just give diet and nutrition consultations rather than medical advice.
"The issue is probably intertwined with the lack of related laws and guiding principles," said a doctor from Shanghai Zhongshan Hospital who declined to be named.
"The country has specific laws on medical service, which restrict any illegal medical practice. But it is still a blind zone when it comes to health and nutrition consultation. Some people like Zhang take advantage of the loopholes in the law to amass a great fortune," she said.
Wu Gang, deputy director of the State Administration of Traditional Chinese Medicine, said regulating the health industry is a priority.
"We are planning to formulate and revise the standards for admittance into the health industry and to strictly enforce market admittance," Wu said.