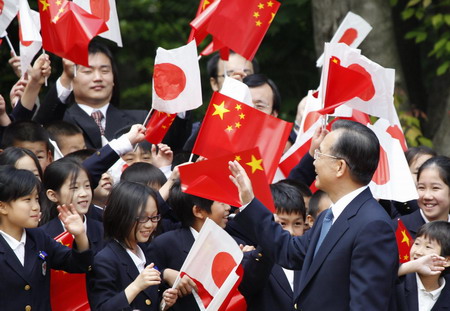 Chinese Premier Wen Jiabao waves to children during a welcoming ceremony at Japanese Prime Minister Yukio Hatoyama's official residence in Tokyo May 31, 2010. [Agencies]
Premier Wen Jiabao pledged on Monday China will try to rein in inflation as the world's second largest economy faces its runaway farm products and real estate prices.
China's consumer price index (CPI), a major gauge of inflation, hiked 2.4 percent year on year in March and in April accelerated to 2.8 percent, according to statistics from the National Bureau of Statistics. A persistent drought in southwest China as well as market speculation is believed to have spurred the recent prices hike in rice, garlic, vegetables and green beans.
Full Coverage:


Wen's Four Nation Tour
Related readings:


 Wen: China won't adopt stimulus exit strategy


 China, Japan agree to reestablish hotline between premiers


 China, South Korea, Japan release blueprint for 2020

 Wen makes proposal on China-S Korea ties
Premier Wen said during an official visit to Japan that China faces three major economic tasks, "maintaining a fast and stable growth, reforming its economic structure and keeping inflation in check."
"A special circumstance in the Chinese economy is that farm products account for a large part of the CPI," said Premier Wen. "If the price of farm products could be held in check, then so will the CPI."
China would also "vie to keep the country's real estate price in a reasonable zone, so as to ward off a property bubble and prevent the soaring prices affecting people's livelihoods," said Wen.