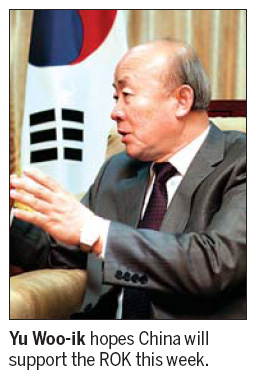 Beijing - Beijing and Seoul will commit to further cooperation on trade and diplomatic affairs during Premier Wen Jiabao's trip to the Republic of Korea, said ROK ambassador to China Yu Woo-ik.
Wen's three-day visit, starting Friday, is expected to deepen the strategic partnership and develop mechanisms for managing differences, Yu added.
The premier's first official trip to Seoul since April 2007 will allow him to exchange views with ROK leaders including President Lee Myung-bak, Speaker of the National Assembly Kim Hyong-o and Prime Minister Chung Un Chan.
The ambassador said Beijing and Seoul have maintained close contact through summits and high-level visits, noting Lee's recent visit to Shanghai for the opening ceremony of the World Expo.
Trade between the two nations last year exceeded $156 billion and China remains the ROK's largest trading partner.
Wen's tour comes at a sensitive time as hostilities are rising on the Korean Peninsula due to the sinking of the ROK ship Cheonan, an issue the two leaders are expected to discuss.
Yu said China and the ROK have maintained good communication on the Cheonan incident and the "ROK has been trying its best to understand China's restrained stance on such a sensitive situation."
He said the Chinese side, in hopes of maintaining regional peace and stability, has urged all relevant parties to remain calm.
As Seoul plans to bring the case to the United Nations Security Council, it is expected to seek Beijing's support as a veto-wielding member of the Council.
"We hope the Chinese can stand side by side with the ROK to try to solve the issue," Yu said.
During his stay in the ROK, Wen is also scheduled to attend a trilateral summit with the leaders of the ROK and Japan on the weekend on the ROK's Chejudao island.
Yu noted that due to its favorable geographic location between China and Japan, the ROK is willing to play an administrative and secretarial role in managing the three-way mechanism for cooperation.