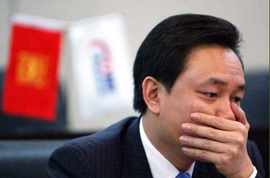 Gome founder Huang Guangyu. [file photo]  
A Beijing court Tuesday morning sentenced Huang Guangyu, former chairman of Gome Electrical Appliances Holdings, to 14 years in prison for illegal business dealings, insider trading and corporate bribery.
Huang, once China's richest person, was also fined 600 million yuan ($88 million), with another 200 million yuan worth of property being confiscated, the Xinhua News Agency said.
Huang, 41, was detained in November 2008 for investigation of stock market manipulation allegations. He made his fortune by founding and building up Gome, now China's second largest home appliance retailer by market value.
He was ranked as mainland's richest person by Hurun's China Rich List from 2005 to 2008, with assets reached 43 billion yuan ($6.3 billion).
Related readings:


 Gome to bring back Bain officials


 Gome re-installs ousted Bain directors


 Gome's sporting goods chain takes a swing at a home run


 Ex-Gome's chairman on trial in Beijing
His two firms, Gome and Beijing Pengrun Real Estate Development Company, were fined 5 million yuan ($735,000) and 1.2 million yuan respectively for giving bribes, the statement of Beijing No. 2 Intermediate People's Court said.
Huang was found to be liable for the bribes given by the two companies as he was personally involved or directed others to do so, said the statement.
Huang was also convicted of illegally trading 822 million Hong Kong dollars from September to November 2007.
As the major shareholder of Shenzhen-listed Beijing Centergate Technologies (Holding) Co., Ltd., Huang was found guilty of insider trading of the company's stocks, with a total value of more than 1.415 billion yuan, from April to September 2007.
These dealings earned him more than 309 million yuan in trading profits.
He directly bribed or instigated others to bribe five government officials with 4.56 million yuan in cash and properties from 2006 to 2008 in exchange for corporate benefits, it said.
The statement said the court found Huang's crimes to be extremely serious, but showed leniency because he had admitted guilt and assisted with the criminal investigation.
The share price of the Hong Kong-listed Gome company rose 0.873 percent to 2.31 Hong Kong dollars on Tuesday.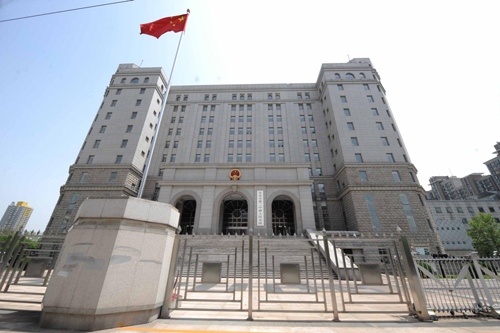 Beijing No. 2 Intermediate People's Court. Picture taken on May 18, 2010. [Xinhua]