BEIJING - Foreigners and people from Hong Kong, Macao and Taiwan will, for the first time, be included in China's national census starting on Nov 1.
According to a pilot census that kicked off in Beijing's two residential areas on Monday, information collected by the census will including name, age, nationality, reasons for coming to China, levels of education, profession, length of stay and place of residence in the last six months.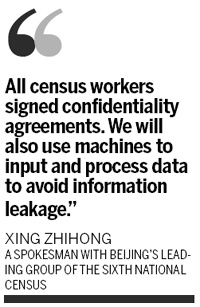 The last census was held a decade ago.
This year's national census will include foreigners because of social changes in the country, officials said.
"More foreigners are coming in, and China has an increasing trend in labor migration, and differences in registered and actual residences," said Xing Zhihong, a spokesman with Beijing's leading group of the sixth national census.
To find out possible glitches beforehand and guarantee a smooth census in November, a pilot census is being held in Beijing's two residential areas from Monday through May 15.
In the Seasons Park, an upscale residential area in Dongzhimen community, some 20 census workers and English-speaking college volunteers in four groups knocked on doors with help of the community's security guards.
About one-third of the 2,000 households in the community are overseas residents, a community official said.
Yang Wenyu, deputy director of Dongzhimen sub-district office, who headed the pilot census in the Seasons Park, said most of the foreigners who opened the door to survey workers showed understanding and cooperation.
"But we have some difficulty finding some foreigners who may have residences in various cities or have a busy work schedule," he said.
"We will try to reach every one of them by making repeated visits."
Not all foreigners are willing to answer the census questions. Some have doubts about the necessity of the census.
An Iranian national living in the Seasons Park who identified herself as Fariba said: "I have already registered with the police station. Why do I have to do it again?"
Spokesman Xing Zhihong said, compared to foreigners' registry with border police, the census aims to know more.
"They (foreigners) might enter from Guangzhou, but move to live and work in another city. The census aims to know where they actually live, their reasons for coming to China and the basic situation of their lives here," he said.
But the information gathering will not involve personal questions, he said.
The foreigners also can be assured that their information will be safe with the census group.
"All census workers signed confidentiality agreements. We will also use machines to input and process data to avoid information leakage," Xing said.
Due to its fast-growing economy, China has been attracting an increasing number of people outside the Chinese mainland to invest, work, live or study in the country.
Statistics from the Ministry of Education suggest that the number of foreign students in China rose to 240,000 last year.
About half a million Taiwan people also now live or work in the Chinese mainland, according to statistics.