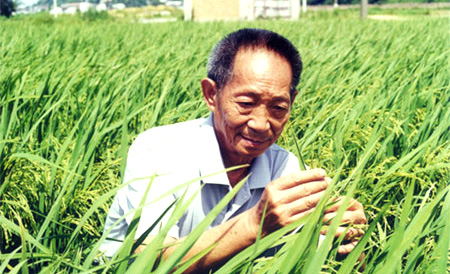 Yuan Longping [file] 
Yuan Longping, known as the father of hybrid rice, was named China's soul-richest person in the country's first soul-rich list, which was released on Wednesday by the China Social Sciences Press in Beijing, the Southern Metropolis Daily reported Thursday.
The sponsor of the list said Yuan's contribution with hybrid rice was invaluable to the world, but the man never sought fame and wealth and still works on his farmland as a plain farmer.
Also on the list are Chen Guangbiao, a famous philanthropist; Li Shufu, founder of China's Zhejiang Geely Holdings; Han Han, a professional rally driver, best-selling author and China's most popular blogger; and Hu Shuli, chief editor of CAIXIN Media.