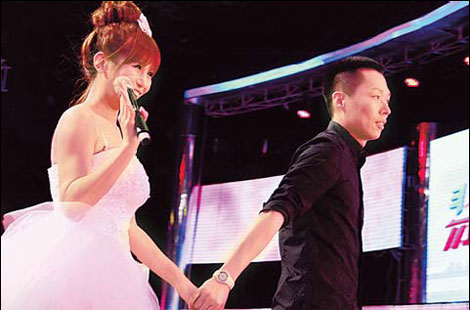 Ma Nuo (left), a model from Beijing and a guest on Jiangsu Satellite Television's If You Are The One program, has been derided for her material girl image. Provided to China Daily
Jiangsu Satellite TV's If You Are The One is revolutionizing the world of dating shows
BEIJING - By switching their lights on or off, 24 single, attractive ladies decide the fate of a bachelor.
The dating show If You Are The One (Fei Cheng Wu Rao) has created a buzz because of its morally ambiguous and visually electrifying format.
Every Saturday and Sunday night on Jiangsu Satellite Television, a jury of 24 single women question one guy, watch his introductory video and press light buttons to determine whether he should remain on the show.
In turn, the guy can choose his favorite girl and if he survives the "trial", he will have a chance to pick a girl for a date.
Audiences have been intrigued by the guests' outspoken remarks and the occasional arguments that break out.
Flashpoints include issues such as household chores, whether a wedded couple should live with the husband's parents, if car and house ownership matters more than love, and whether or not a career should be sacrificed for love.
Some of the guests have become overnight stars and have online fan clubs. Among them, Ma Nuo and Liu Yunchao have stirred extensive controversy.
Ma, 22, a model from Beijing, has won plaudits for her stylish appearance, but is equally derided for her material girl image. She once told a man who was jobless and invited her to ride on his bike that she would rather cry in a BMW.
The 23-year-old Liu boasted about his 6 million yuan ($878,000) bank balance and three sports cars, but his wealth and arrogance was condemned and he was voted off the show. Liu later defended himself by saying he was being honest, while many of the girls were just being deceptive.
"The show is as dramatic as a TV soap opera," says Liu Tingting, a married office worker in Beijing and regular viewer of the show.
"It reaches one climax after another every two or three minutes. It features a potpourri of hot topics such as mortgage slaves, the income gap between the rich and poor, and being single, which constantly prick people's nerves."
Netizens allege that some guests do not enter the show to date, but merely to get a toehold in the world of show business. They say the production team uses the guests as decoys to spice up the show.
Hunan Satellite Television, Jiangsu TV's powerful competitor, also contends If You Are The One is a copy of its dating game Take Me Out (Women Yue Hui Ba), which is based on a copyrighted show with FremantleMedia, a London-headquartered TV, radio and production company.
Others say that Hunan's accusation is simply sour grapes because the Jiangsu TV program is topping the ratings.
"Does Ma Nuo only speak for herself? No. Her opinion resonates with youth," says Chen Zhigang, a critic and playwright. "They have grown up in a society that is quickly accumulating material wealth. They are snobbish. They worship money, cars and houses because the highly developing economy has made them do so.
"The show is more than a dating game. It is like a multi-dimensional mirror that reflects social values."
Another negative opinion is that the show makes light of serious social issues.
"The popularity of television dating programs reflects a collective anxiety of single people, particularly the colony of "sheng nan" and "sheng nu" (singles who are in their late 20s and over 30), and their families," said Xiang Jianxin, vice-president of Baihe.com, a Beijing-based dating network company.
"They long for marriage, yet they lack a sense of security in love and their other relationships."
Xiang said television dating programs should play a role in helping these people, instead of commercializing their problems.
China Daily
(China Daily 04/24/2010 page1)