WASHINGTON - Chinese President Hu Jintao on Tuesday called for concerted action by all countries to enhance nuclear security while stressing the need to properly address the challenge.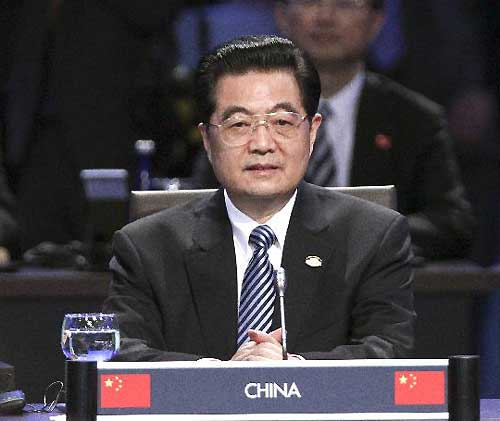 Chinese President Hu Jintao attends the first plenary session of the Nuclear Security Summit at the Washington Convention Center in Washington, April 13, 2010. [Xinhua]
"The potential threat of nuclear terrorism cannot be neglected and the risk of nuclear material diversion and illicit trafficking is on the rise," Hu said in a speech delivered at the Nuclear Security Summit here.
In the speech, Hu put forward five proposals on ways to strengthen nuclear security.
Special coverage:


 Hu's visit to the Americas
Related readings:


 President Hu offers nuclear security support


 Nuclear Security Summit ends with communique, work plan


 China to set up nuclear security 'Center of Excellence'


 Chinese president attends nuclear security summit


 Hu arrives in Washington for nuclear security summit
First, the Chinese president said, all countries need to honor their commitments and responsibilities by adopting effective measures to secure nuclear materials and facilities.
Second, Hu said, they should consolidate the existing international legal framework on nuclear security, which consists of the Convention on the Physical Protection of Nuclear Material and International Convention for the Suppression of Acts of Nuclear Terrorism.
Hu's third proposal is to strengthen international cooperation by sharing experience, exchanging information and cooperating on law enforcement.
Fourth, he said, there is a need to help developing countries enhance their nuclear security capacity. Therefore he called for the International Atomic Energy Agency (IAEA) and the developed countries to offer greater assistance to developing countries in that respect.
Finally, the president said that all countries should properly handle the relationship between nuclear security and the peaceful use of nuclear energy.
"Nuclear security measures should help foster an enabling environment for peaceful use of nuclear energy by all countries and facilitate related international cooperation," Hu said.
Hu also briefed participants at the summit on China's stance and policy on nuclear security.
Hu said China has made vigorous efforts to build nuclear security capacity, honoring international nuclear security obligations, valuing and taking an active part in international cooperation on nuclear security, and actively providing nuclear security assistance to other developing countries.
He said that in recent years, China has provided assistance to other countries in the region through technology demonstration and personnel training.
Hu reiterated China's firm commitment to a nuclear strategy of self-defense and its adherence to the policy of no-first-use of nuclear weapons at any time and under any circumstance.
The two-day summit focuses on the international threat of nuclear terrorism and illicit trafficking of nuclear materials. Participants included heads of state, government leaders and representatives from 47 countries and heads of international organizations.