The Green Guidelines for the Shanghai Expo 2010, jointly issued by the Bureau of Shanghai World Expo and UNESCO, detail what participants, operators and visitors can do to ensure that the Expo is an environmentally friendly event.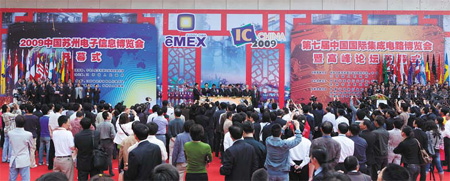 The China Suzhou Electronic Information Expo is among the important events hosted by SuzhouExpo.
Chen Gang, CEO of Suzhou International Expo Center Co Ltd (SuzhouExpo), said that his company will follow Shanghai's footsteps and apply these guidelines at the Suzhou Expo Center in Shanghai's neighboring city of Suzhou.
For participants there are rules covering ecological design, pollution control, and green construction, management and transport.
Related readings:


 1,200 plus city artists ready for 2010 Expo


 Dozens of new cars to debut at Beijing Auto Expo


 Shanghai World Expo Hangzhou Pavilion in Test Operation

 Media registrations pack Shanghai Expo

For operators, there are rules regarding restaurants, marketing, event service, logistics and the office environment. There are also tips for visitors.
The exhibition industry is low in pollution but grows at a rate of about 20 percent every year, creating socio-economic benefit. However, there are negative points such as the amount of garbage produced after exhibitions, particularly from temporary structures and printed materials.
With the Green Guidelines it is hoped that such waste can be avoided at the Shanghai Expo.
Suzhou also has its own actions for green exhibitions.
Last year, SuzhouExpo signed an agreement with Changzhou Lingtong Exhibition Products Co Ltd to make joint efforts to develop the Suzhou Expo Center into a green exhibition venue.
Both sides agree that being environmentally conscious will be the trend of the future exhibition industry.
To better serve the operators and participants, and enhance service quality, SuzhouExpo has set up a subsidiary company Busiman Exhibition Engineering Co Ltd. This will provide professional exhibition decoration and engineering design. Busiman will focus on using environmentally friendly materials whilst keeping costs low. Currently, the subsidiary company also helps with installation work for exhibitions in Beijing, Shanghai, Guangzhou, Wuhan, Chengdu and Nanjing.
To cater to the concept of a low-carbon Expo 2010, a shuttle bus will be provided to take people from Suzhou to Shanghai, to avoid the over use of private cars.
A chance for Suzhou
It is estimated that the number of visitors to the Shanghai Expo 2010 will reach 70 million. Among them, around 70 percent may visit the surrounding cities including Suzhou, the nearest city to Shanghai with a long history and tourism attractions, according to Chen.
SuzhouExpo will take full advantage of the upsurge in visitors to the Shanghai Expo 2010 by encouraging them to come to Suzhou, said Chen. He added that his company is making efforts to turn Suzhou Expo Center by the picturesque Jinji Lake into a destination for both traders and tourists.
Chen noted that Suzhou should promote industrial resources, consumer goods market and sound investment environment to attract more foreign exhibition companies during the Expo 2010.
During the period, SuzhouExpo will host various events at the Suzhou Expo Center, including the China Suzhou International SME Fair, the 47th International Federation of Landscape Architects World Congress, China (Suzhou) Landscape Architectural Exhibition in late May, the 4th China International Logistics Technology and Services Expo in late June, the Electronics Manufacturing Exposition China and the 8th China International IC Exhibition and Summit in late October.