The Shanghai Expo, opening on May 1, will be a test of China's ability to host large-scale expositions and a historical opportunity for the Chinese exhibition industry.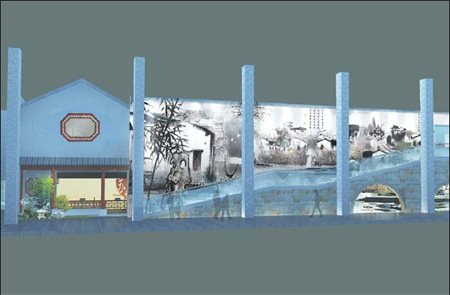 The Suzhou pavilion at the Shanghai Expo 2010 is a vivid showcase of the city's attractions. [China Daily]
The Expo will help increase China's international standing and prompt quicker infrastructure construction in Shanghai and the Yangtze River Delta, said Chen Gang, CEO of Suzhou International Expo Center Co Ltd.
Related readings:


 1,200 plus city artists ready for 2010 Expo


 Dozens of new cars to debut at Beijing Auto Expo


 170,000 register as volunteers for World Expo


 Media registrations pack Shanghai Expo

The new ways of preparing and operating expositions used for the Shanghai Expo form a new standard for managers in China's exhibition industry.
Drawing on the experience of previous Expos, Expo 2010 adopts the operation model of combining government guidance with the market.
During the Expo, the government will provide financial support, but market players such as corporations will coordinate development and planning and build infrastructure.
Chen said this marks a diminution in the role of the government in profit-making exhibitions, and greatly increases the rule of the market in China's exhibition industry.
At the Expo 2010, new technologies and environmental protection concepts will be introduced. The Ministry of Science and Technology and the Shanghai municipal government have strengthened research on food security, disaster early warning, testing for major hazardous sources and identification.
In addition, the Expo has made use of cutting edge information technology, in the exhibition displays and with the website, Expo online.
Statistics indicate that between 2004 and 2008, Shanghai invested a total of 588.33 billion yuan in infrastructure, bringing improved transportation and logistics network to Shanghai.
The surrounding cities also have improved infrastructure. For instance, the 350-km/h high-speed railway from Shanghai to Nanjing will shorten the travel between the two cities to about one hour. It also takes only 15 minutes to go from Shanghai to Suzhou.
After Shanghai won the bid to host the Expo, the neighboring cities in the Yangtze River Delta, seized the opportunity to capitalize on the Expo by hosting associated events, which Expo visitors could incorporate into their Expo itineraries.
The Expo will also create a surge in demand for other services, such as finance, insurance, logistics, transport, catering, entertainment, shopping and recreation.