Subway singer hopes stepping up into spotlight will help her life
BEIJING - For four years, she sat in a Beijing subway station and sang. Day after day, in extreme hot and cold, she was there because she had to be. She was there because she had to eat. She was there because she loved to sing.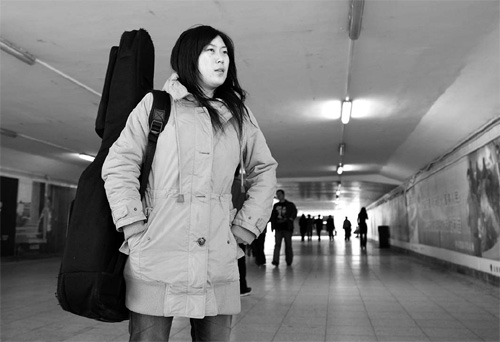 Ren Yueli, known as "Xidan Girl", has sung in an underground passage in Xidan for four years. [China Daily] 
Her real name is Ren Yueli but she is well-known as "Xidan Girl" because of where she played - an underground passage in Xidan, a commercial hub in Beijing.
Ren is a rare case of a bei piao, or Beijing drifter, on the verge of making it big. And it is all because of Liu Yuanxiang, an amateur videographer who filmed her performances and posted them online.
Nearly 30 million people viewed the film clips, spurring the video website youku.com to contact Ren in February last year, encouraging her to sing on a stage instead of in a subway station.
"I had no idea they were posting videos online," the 21-year-old said. "I had no idea."
Fast forward one year. Ren is no longer performing underground. Instead, she regularly appears on popular television programs. In January, she was a guest on a Beijing Television music show. After that, she was invited to perform on China Central Television, the national broadcaster.
Now she spends her days in studios, writing songs, enhancing her voice, hoping to sign a record contract. She says she hopes to finish her first album in the next couple of months as well as star in a television series based on her life.
Ren's light, delicate voice is only one component of her massive popularity. Beneath her natural talent is a heart-wrenching story of struggle, determination and hope.
"Her personal life moved millions to tears," said Jean Shao, a spokesperson for youku.com. Shao said youku.com decided to approach Ren after a large number of users wanted to know more about her background.
Originally from a small village in North China's Hebei province, Ren moved to Beijing when she was 16 to earn money to send back home to her parents who are poor and disabled. Her mother suffers from a mental illness and her father has a handicap with his legs.
"I just wanted to make a living by myself to reduce the burden on my family," she said.
She arrived lost, young and lonely, working shifts in restaurants with bosses who never paid her. Out of answers and unsure how to make money, one day she came across another bei piao in an underground passage. He was singing and playing a piano and invited her to try.
So she did. And never stopped. Singing was something Ren had always loved. Back home, while cleaning the home or working outside, she sang. In Beijing, her natural talent turned into a way to survive.
She sent half of the 1,000 yuan ($150) she collected underground every month to her family. The rest went towards food and a tiny room that was her home.
"If I did not sing for one day, I would not be able to eat. I would have no money for my family," she said. "I had no hope for my future. I was just singing, day by day. I did not even dare to think."
While Ren's future is brighter now, there is still a difficult road ahead. She earns some money from her TV appearances but otherwise has no income.
Local producers are helping her hone her skills, but there is no guarantee she will ever have a major break in an entertainment industry that is notoriously cutthroat. It is clear she worries she will not fit in.
"I am a common girl and keep a low profile," she said. "I don't put myself in a very high position."
Ren now lives in a tiny apartment outside the Sixth Ring Road. It takes her more than an hour to travel to central Beijing each day to rehearse.
Her parents know about her recent success. Ren says they tell her that they regret their poverty and wish they could do more to help their daughter pursue her dream.
"I just want to help my family live a better life. If things don't work out, I will go back underground and sing," she said.
On a recent evening, Ren returned to the subway to perform. She says she occasionally goes back when she has time. Underneath the stale fluorescent light she shone, with the station her stage, pedestrians her audience.
"In my heart, I have never left this place," she said. "If I have time, I will always sing a song in the underground passage."
China Daily