Customer care is key at Expo Center as job applicants feel the pressure
SHANGHAI - Competition for jobs at the Expo Center is so intense that interns are holding competitions in their down time to stay sharp and gain an edge.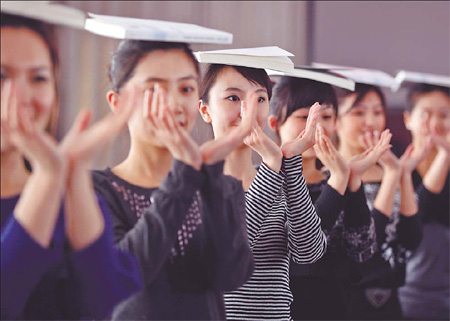 Candidates hoping to work as attendants in the Shandong pavilion receive etiquette training in the provincial capital of Jinan last month.  
"We make up general knowledge contests and dish out punishments to losers, such as having them run up and down the stairs carrying other people's lunch or water," said 21-year-old Qin Yu, who is interning as a meeting room attendant.
"We're all afraid we won't get the chance to sign a contract with the Expo Center, so we have to work harder."
Related readings:


 China's police step up security for Shanghai Expo


 Beijing roast duck to be served at Shanghai Expo


 30-day countdown to Shanghai World Expo


 World Expo to start trial operation on April 20

Qin changed her major at university from shipping to customer service because the global financial crisis had dented the number of new hires among shipping companies. Also, her parents insisted she find a job more suited to a woman.
The Expo Center, one of four main buildings at the Expo site that will not be torn down in October when Expo 2010 ends, provides many opportunities for young people starting out on their careers. It also houses the media center, where most of the press conferences will be held. This makes the job of the meeting-room attendants more high-profile.
Interns wanting to be signed up have to attend training sessions one day a month at the Shanghai Exhibition Center. The sessions can throw anything at them, from VIP tea-pouring to weight-lifting exercises using household products.
"It was quite difficult to handle the movements for tea pouring without substantial practice," said Qin, trying not to spill any of the boiling water on the table linen despite her trembling hands.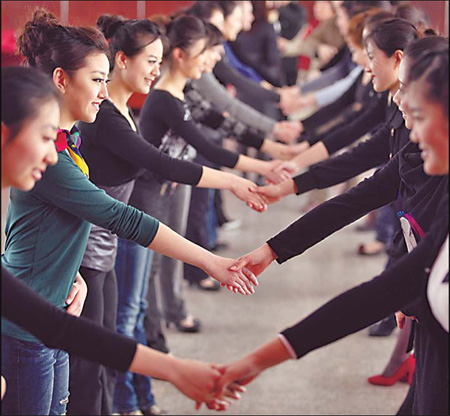 It's a pleasure to meet you - applicants practice shaking hands as a form of greeting for their prospective jobs as meeting-room attendants. [Xinhua] 
Chen Su, a 23-year-old German major, said she applied to the center's customer service department because repetitive work drives her up the wall.
"This job will allow me to meet different people every day, so it will be fun," she said. But the training course was taking its toll. On several occasions Chen was instructed to fill a tray with bottled mineral water and hold it in her left hand for five minutes.
"I've never done this kind of thing before. If the bottles fall off, they make us hold the tray for another five minutes." She said it takes her half an hour to recover when she finishes work.
Ren Xiaoxia, also 23, finds the work easier because she has spent the last two years waiting on politicians at the Shanghai People's Political Consultative Conference.
"The only change for me is the makeup we're told to apply, which was quite heavy before, but now it's more natural-looking. The English is also difficult," she said. "We have to be able to describe different tables and stuff like that."