Diversity and duality, past and present co-exist
SHANGHAI - The India pavilion will take visitors on a journey through 2,000 years of civilization in a kaleidoscope of landscapes, culture, religion and peoples to reveal a unique blend of tradition and modernity.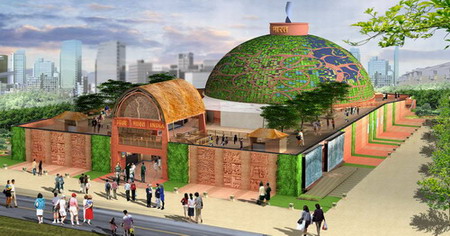 An artist's rendition of the Indian Pavilion for the 2010 World Expo.[en.expo2010.cn]
"The India pavilion at Expo 2010 will project diversity and duality," said Commissioner General N.K. Sehgal. "India is a country with diverse geography, traditions, culture and languages. In both its cities and rural areas there is a unique duality of the ancient and modern."
The 4,000-sq-m pavilion will promote the notion of "Cities of Harmony" as its core message.
"Cities where the different elements - social, spatial, economic, infrastructural and technological - are in harmony are 'better cities' that ensure a 'better life'," said Sehgal. "To reap such harmonic cities we should sow (the seeds) with our cultural, social, scientific, technological and geographical matrix in mind."
Full Coverage:


 World Expo in Shanghai
Related readings:


 Shanghai Expo shines at tourism show in Paris


 Renaissance masterpieces to be debuted at Expo


 Shanghai opens post office next to World Expo site

 Shanghai pitches $25b on urban Expo makeover
The pavilion will consist of two sections: an entry plaza that flows into a main dome, which will exemplify the theme of duality.
The plaza will be decorated with carved terracotta panels that tell ancient stories of religions and the interdependence of humans and nature. Visitors first walk under a vaulted portal bearing a carving of the Tree of Life as inspired by a stone carving from the Siddi Saiyyed Mosque at Ahmedabad, in the state of Gujarat.
"The terracotta and stone floor was inspired by the palace at Rampur in Varanasi. It is cooled by embedded pipes, interpreting this mall as an outdoor bazaar, inclusive and not gated - a human celebration of the future tropical city," said Sehgal.
The theme of diversity will start at the plaza in the form of live cultural performances, food and handicrafts from various urban and rural areas of the country, giving visitors a taste of India. This plaza flows into the central dome to show how it is possible to be united amid diversity.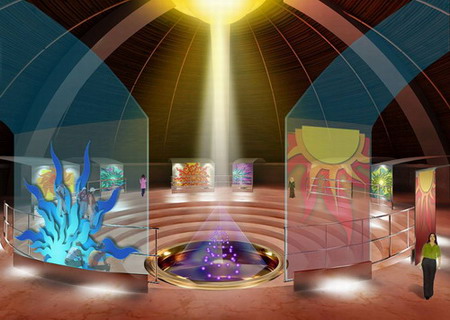 An artist's rendition of the Indian Pavilion for the 2010 World Expo.[en.expo2010.cn]
The dome is inspired by the Great Stupa at Sanchi in Madhya Pradesh state, which is a major pilgrimage site for Buddhists. It gains special relevance in China because of its Buddhist lineage, with its style serving as a recurring theme in Hindu, Buddhist, Islamic, Jain, Sikh and Christian architecture. As such, it makes a strong statement about the amalgam of different cultures and religions.
Most of the materials used to build the India pavilion are reusable. Its energy demands are low and waste materials are recycled. State-of-the-art energy systems will cool and light the structure, while a windmill and solar cells will generate power at most times.
"The design of the pavilion is a distinctive and complex Indian response to the modern minimalism of tensile structures or geodesic domes used around the world, in that it uses the materials in a craft-oriented way," said Sehgal.
The pavilion recycles water for its plants and demonstrates rainfall harvesting, which is used during periods of little or no rainfall.