Minister warns China will fight back if declared currency manipulator
BEIJING - The country will probably see a "record trade deficit" in March thanks to surging imports, Minister of Commerce Chen Deming said on Sunday, while warning that Beijing will "fight back" if Washington labels China a currency manipulator.
Speaking at the three-day China Development Forum that ends on Monday, Chen said: "I believe there will be a trade deficit in March" - which will be the first since May 2004.
After China's exports rebounded in December, US legislators and economists have been demanding the Barack Obama administration label China a currency manipulator in a US Treasury report due out in mid-April, which will make it possible for Washington to slap duties on Chinese imports.
Related readings:


 Vice-minister to visit US on trade relations


 China opposes trade protectionism in all forms: envoy


 China's trade surplus with US misread


 China calls on Washington to cool yuan pressure
"China's trade surplus with the US has been turned into a key excuse by American economists to pressurize the Chinese government to revalue the yuan," but, ironically, the calls have been growing stronger even as the "surplus keeps falling", Chen said.
"It's not rational (for China) to revalue the yuan, as it would hurt both Chinese exporters and American consumers."
In the three decades up to the 2008 global financial crisis, China's exports registered annual growth of 20 percent but the surplus with the US contributed a big chunk to China's total. Last year, China had a surplus of $143.38 billion with the US, accounting for a hefty 73 percent of the total.
"The impact of currency revaluation on trade is limited," said Chen.
From July 2005 to July 2008, the yuan gained a cumulative 21 percent against the dollar, but China's trade surplus with the US kept rising. When the yuan was steady against the dollar from 2009, the trade surplus dropped 34 percent.
Chinese analysts said the Obama administration, under increasing pressure as mid-term Congressional elections draw near, is trying desperate measures to create more jobs and expand exports to placate voters, and the Chinese currency has been made a target.
"If the (trade) issue is taken to the WTO, China will respond actively," Chen added.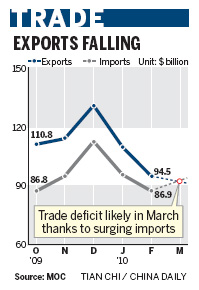 "China, of course, wants to buy more to balance trade, but it is a pity there are so many things that we cannot buy from the US. The US has set restrictions on exports three times, and it added several categories in 2007, such as computers, aerospace technology and digital machine tools," said Chen.
Nobel laureate and economist Joseph Stiglitz told China Daily on the sidelines of the forum that many other factors, such as restrictions on high-tech products, rather than the exchange rate contribute to the US deficit with China. He called on Washington to relax the curbs to balance trade.
The ministry also said on Friday that Washington's method of evaluating trade figures magnifies the deficit with China.
"The deficit has been vastly overestimated based on American statistics," and according to the latest report prepared by both sides, the US deficit for 2006 is "26 percent higher than it should have been," Chen said.