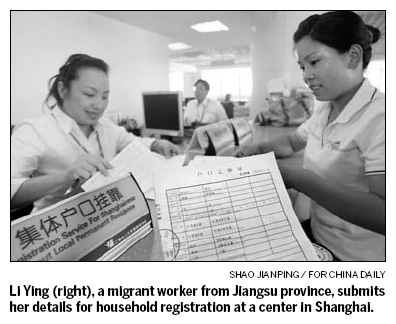 BEIJING: A senior expert at an official think tank in Shanghai has indicated further relaxation in the city's household registration, or hukou system, in the near future.
Wang Zhan, director of the Policy Research Office of the municipal Party committee, said he believes the current requirements for obtaining hukou in Shanghai are only "temporary".
Related readings:


 Hukou roars to life as ice melts


 Urban hukou or rural land? Migrant workers face dilemma


 An arduous journey to a Beijing hukou


 Mayor vows to resolve hukou issue in two years


 China to relax hukou restrictions in small cities, towns


 Shanghai details new hukou policy
He said in the end there would be only three basic criteria - applicants should have a stable job in the city, be taxpayers for three to five years and have no criminal record.
However, he did not say when the change in policy would be implemented.
During the recently-concluded two sessions of the nation's top legislature and political advisory body, the central government promised to reform its longstanding hukou system and ease restrictions on permanent residence registration in towns as well as in small- and medium-sized cities.
Shanghai became the first major city in the country to loosen its control on the hukou system in February last year.
To qualify for permanent residency, applicants must have held a Shanghai residency certificate and have been in the city's social security system for at least seven years. Applicants must also be taxpayers, have obtained vocational qualification of medium or high levels, have never violated family planning policies, and have clean credit and criminal records.
The policy, widely believed to help attract talent, also gives priority to those with a senior vocational qualification, those who pay high taxes or insurance rates or have significant investments in the city.
Under the existing requirements, however, only 3,000 people were reportedly eligible for hukou last year. Shanghai has a population of 19 million people, 6 million of whom do not have permanent residency.
Wang said with China's rapid urbanization drive, it is a historical trend - also a matter of social equality - that rural residents need to be included in the urban population and entitled to the social welfare in cities.
He also suggested opening the door wider to the migrant population, depending on a city's financial conditions and infrastructure.
Hukou has long been blamed for systematically widening the gap between urban and rural residents. The system, which restricts people's residency to their hometown, limits rural workers' access to services in cities.