Commercial Aircraft Corporation of China (COMAC), the manufacturer of China's first large passenger aircraft C919, has an ambitious plan to sell over 2,000 C919 jetliners within the next 20 years, Beijing Business Today reported Friday.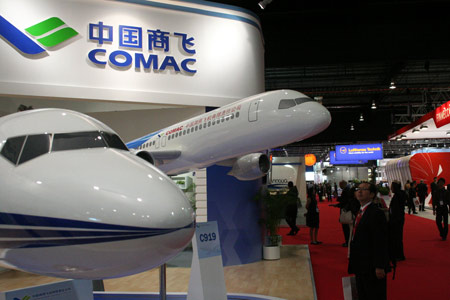 A visitor looks at the C919 aircraft mockup at the Singapore Airshow.[Xinhua] 
Yuan Wenfeng, vice director of COMAC's project management department, said at the Singapore Airshow that customers will be able to place orders this year and COMAC hopes 100 C919 jetliners will be ordered. Yuan also said most of the customers are expected to come from the Chinese mainland.
Related readings:


 Singapore Air Show offers sneak peek of C919 aircraft


 Work starts on Pudong C919 final assembly line


 Pudong gets C919 final assembly line


 China displays mockup of home-grown jetliner C919
The C919 is China's first indigenously-made large passenger aircraft. The 168-190 seat narrow-body aircraft, similar to the Airbus A320 family and Boeing 737, will take its first flight in 2014 and get certified in 2016.
By the end of January 2010, a total of 6,539 aircraft of the A320 family have been ordered and 4,148 delivered around the world.
Two major carriers in China, China Southern Airlines and Air China, both voiced their support for the C919 project.
He Li, vice president of Air China, said at Singapore Airshow earlier this week that the carrier will support domestic aircraft manufacturers but it has not yet decided how many C919 jetliners it will buy.
Also showing support at the Airshow is China Southern's deputy general manager Dong Suguang, who said if the government needs the carrier to buy C919, it will officially place an order, according to Beijing Business Today.
Tuesday's Bloomberg report said Airbus forecasts that Asian airlines will buy about 8,000 planes over 20 years, which will be worth $1.2 trillion. The forecast is for aircraft with more than 100 seats.
Last year, Aviation Industry Corporation of China (AVIC)'s report predicted that airlines in China will buy 2,922 large passenger jetliners before the year of 2028.