SHANGHAI: US Commerce Secretary Gary Locke said in Shanghai Friday that he expected cooperation between China and the United Stated in the fields of clean energy technology and carbon emission elimination would benefit both countries in the campaign against climate change.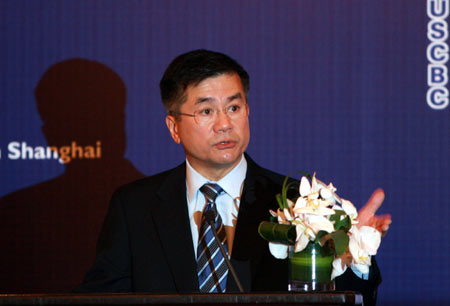 US Commerce Secretary Gary Locke delivers a speech at a welcome reception hosted by the American Chamber of Commerce and the United States-China Business Council in Shanghai, July 17, 2009. [Xinhua]
"I believe there is great opportunity for greater cooperation between United States and China," said Locke, a Chinese American, in his speech at a welcome ceremony jointly hosted by American Chamber of Commerce in Shanghai and the US-China Business Council.
Related readings:


 China expects US to play due role on climate change


 Chu: US to lead climate change effort


 Steven Chu: US ready to lead on climate change


 China offers three-point proposal on tackling climate change


 China urges developed countries to set timetable on climate change
His audience included dozens of Chinese businessmen from across the country and representatives of international corporations with branches in Shanghai.
"I want China and the United States to lead the world and save the planet from irreversible climate change.
"We all share the same atmosphere, and if we do not act, we will all suffer from the coastal flooding, unpredictable weather and agricultural damage," he added.
Locke spoke highly of China's efforts in eliminating carbon emissions. He said that developing new clean energy could create jobs in America, help promote renewable energy and curb pollution in China.
"So much of US direct investment in China created win-win opportunities for both workers in America and workers in China and benefit the climate in the world and planet as well," Locke said.
He later attended the cornerstone laying ceremony of the United States Pavilion at the Shanghai Expo site.