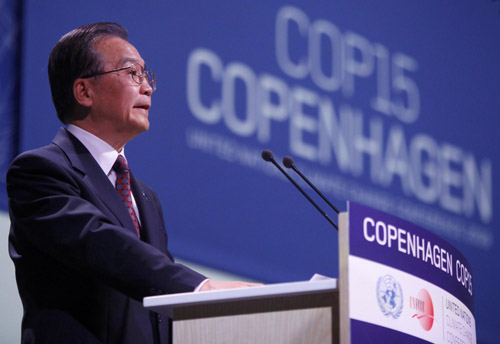 Chinese Premier Wen Jiabao addresses the session of United Nations Climate Change Conference 2009 in Copenhagen December 18, 2009.[Agencies]
COPENHAGEN: Chinese Premier Wen Jiabao said here Friday that China had made unremitting efforts and a positive contribution to the global fight against climate change through energy conservation and pollution reduction.
Speaking at the leaders' meeting of the Copenhagen climate change conference, Wen said. "China has taken climate change very seriously in the course of its development."
"Bearing in mind the fundamental interests of the Chinese people and mankind's long-term development, we have exerted unremitting effort and made a positive contribution to the fight against climate change," the Chinese premier told delegates from around the world.
Wen said China had focused on four major areas in recent years to protect the environment: laws and regulations, energy conservation and pollution reduction, new energy and renewable energy, and forestation.
"We have improved the taxation system and advanced the pricing reform of resource products with a view to putting in place at an early date a pricing mechanism that is responsive to market supply and demand, resource scarcity level and the cost of environmental damage," he said.
China had introduced 10 major energy conservation projects and launched an energy conservation campaign involving 1,000 enterprises, bringing energy-saving action to industry, transportation, construction and other key sectors, the premier said.
Wen said: "We have implemented pilot projects for a circular economy, promoted energy-saving and environment-friendly vehicles and supported the use of energy-saving products by ordinary households through government subsidies."
The Chinese government had worked hard to phase out backward production facilities that were energy intensive and heavily polluting, Wen said. He added that the inefficient production capacity that China eliminated between 2006 and 2008 stood at 60.59 million tons for iron, 43.47 million tons for steel, 140 million tons for cement and 64.45 million tons for coke.
"By the end of the first half of this year, China's energy consumption per unit of GDP (gross domestic product) had dropped by 13 percent from the 2005 level, equivalent to reducing 800 million tons of carbon dioxide emissions," Wen said.