Zhao Xiangyu may be just 21 years old, but he has had more experiences in life than most Chinese youngsters in his age group - Zhao's parents funded his higher studies in the US and allowed him to take a year off to travel before entering college; his mentors assisted him in starting a business in the very first year of college, and he has managed many youth-focused non-governmental organizations (NGOs) in China.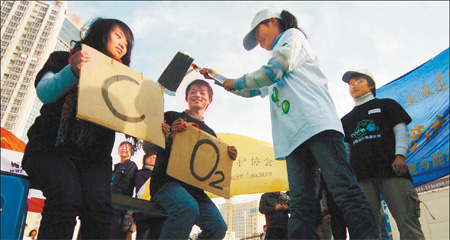 Students from six local universities in Hefei, capital of Anhui province, give an on-the-spot performance in a downtown plaza, aiming to raise public awareness on climate change. [Yu Junjie] 
Yet, unlike his peers, Zhao does not aspire for a highly paid job in big-name firms.
He is different, he says, because he has a mission in life: To solve problems pertaining to the environment in the region - since he knows very well he cannot solve bigger problems related to global climate change.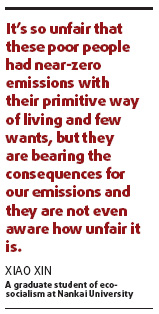 "This mission keeps me sober even when my friends constantly tell me they want to make big money working with Wall Street firms. I too will set up a business of my own, but the revenue will be used to finance my goal," he said.
Over the past three months, Zhao was busy working with many young leaders who would eventually form a 40-strong delegation of Chinese youth to the ongoing United Nations Climate Change Conference in Copenhagen.
These youth leaders, mostly students from Chinese and other top universities across the world, are in Copenhagen to speak on behalf of their country's youngsters in support of positive action to arrest the debilitating effects of climate change.
The youth leaders firmly believe that their generation will either benefit from the decisions or suffer from the indecisions of leaders in Copenhagen. So, they are demanding that their suggestions be not only heard, but also followed through.
This is the first time that a delegation of youth from China is participating in the international climate talks. Zhao got the idea when he saw that there was only one Chinese youth participating in the climate negotiations last year in the city of Poznan in Poland, even as hundreds of youngsters from the US, Europe, Canada and Australia were there to articulate their positions.
A powerful, organized international youth presence at the UN climate change negotiations started in earnest only from the Montreal conference in 2005, and has continued to grow ever since.
"It's a milestone, marking Chinese youths' voluntary participation in international affairs," Zhao said.
Zhao's young team was well prepared before they left to Copenhagen. Professionals helped them in understanding climate change issues, and for fundraising, public relations and event management.
They have even come up with a snappy slogan, No Other Way - whose initial letters form the word "Now" - to denote that urgent action on reducing carbon emissions is the only way to save the world from the ill effects of global warming.
The team has also reached out to Chinese and international media and, along with top Chinese climate negotiators, has become a well-known group at the summit.
Zhao's team has also set up blogs on websites such as Sohu and Tencent. They have designed their own logo and painted it on team uniforms, with blue T-shirts to be worn when climate negotiations run smoothly, and red T-shirts when the talks hit a roadblock.
Hong Ming, who works on topics related to youth leadership at the China Youth and Children Research Center (CYCRC), has been a witness to the increasing role played by China's youth leaders in international forums in recent years.
"China's social development has pushed youngsters to the fore when it comes to key international affairs, where they are expected to take up more responsibilities. At the same time, the youth have been given many opportunities to mark their presence or express their views in high-level international forums," Hong said.
Just like many renowned universities abroad, many Chinese universities too have started to look for students with leadership potential. Peking University has, since 2005, highlighted "leadership skills" as an important requirement when it comes to evaluating its students, Hong said.
However, Hong cautioned that the youth must acquire more knowledge on issues in order to make their voices heard.
The COP15 China Youth Delegation leaders were required to write a 10-page English-language essay and beat scores of applicants before making it to Zhao's team.
One thing that often happens when a group of leaders is put in the same team is that each person tends to hog the limelight and make other people feel insignificant.
"Everybody is so used to being the best in the groups that they are from, but surprisingly, I haven't seen this kind of thing in the team yet," said Holly Chang, founder and president of the Golden Bridges Foundation, a Beijing-based non-profit organization that brings philanthropic capital and volunteer expertise to NGO leaders.
Chang oversaw the entire fundraising process for the team. "Good leaders support others so that they can be more successful. Good leaders create a ripple effect."