More than 100 migrant workers in Shenzhen, Guangdong province, are worried they have black lung disease, but their lack of signed labor contracts means a lack of medical care.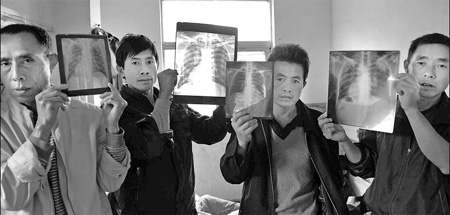 Pneumatic drill operators suffering from lung afflictions show their chest X-rays in a Shenzhen hospital this month.[Southern Metropolis Daily]
The 119 workers were among the first group of workers heading to big cities like Shenzhen in the 1990s to build thousands of skyscrapers and shopping malls, but the men were later allegedly abandoned by their employers when they got sick.
Related readings:


 Black lung tops occupational diseases list


 Worker with black lung finally gets compensation


 MOH to look into black lung case


 Black lung disease killed workers

After nearly four months of efforts, 26 of them finally got medical examinations and will receive compensation later, according to local media reports, quoting an official surnamed Du from the local bureau for letters and calls.
"Six of them are suspected to have pneumoconiosis, while four have shadows in their lungs, and another four suffer from pulmonary tuberculosis," Du said.
However, the rest of the workers have not been given medical checkups as local authorities said the men do not have labor contracts.
One of the men, Peng Huiping, did not live long enough to possibly receive any compensation. He died on Nov 18 after he went back to Zhangjiajie, Hunan province, China National Radio reported on Dec 9.
Black lung disease, also known as pneumoconiosis, is a common affliction of coal miners, who breathe in coal dust, and workers at construction sites, who inhale dust from construction materials. Black lung topped the list of occupational diseases this year.
Some 1,985 complaints about workers' health problems at various companies were reported during 2008, affecting more than 206,000 employees, who are owed a total of more than 600 million yuan ($87.9 million), Huang Zhendong, director of the Internal and Judicial Affairs Committee of the National People's Congress (NPC) Standing Committee, said in an earlier report.
"If we give medical examinations to workers without labor contracts, tens of thousands of migrant workers, coal miners and dynamiters will appear here overnight for examinations. Who will be responsible for their disease?" Du asked.
The current law on occupational disease prevention mandates that companies and insurance companies are responsible for the workers' compensations for medical care.
"If we gave medical examinations to workers without labor contracts and they are sick, we would have to pay their bills with the money from our social security fund," Du said.
Experts are working on a new draft of the occupational disease prevention law to improve the current rules, he said.
"We are studying the details of the draft, such as requiring all workers to have a health examination before beginning work, and then be tested again before leaving the job," he said.
Since September this year, local authorities have shut down more than 20 demolition companies for either an expired license or lack of a license.
While the government is busy strengthening the supervision, migrant workers are struggling to find work in the big cities. Many of them went back to construction work for survival.
Xu Zhihui, one of the migrant workers, told China Youth Daily that most farmers working as migrant workers do not understand that they need to keep records that can prove their work history, which causes their current dilemma.
But the disease in their body is the best evidence, he said.
Many lawyers say that the government, workers, companies and the law all play a role in the problem.
"At present, the government does not supervise. The companies ignore their social responsibility, and the workers lack legal consciousness. The law needs to be improved," Shi Fumao, a lawyer with the Beijing Legal Aid Office for Migrant Workers, told China Daily yesterday. His office is said to be one of the few organizations offering free legal advice to migrant workers.
"We could not ask all the workers to become lawyers in protecting their rights," he said.
The way for migrant workers to protect their rights is long and hard, experts said.
In September, 28-year-old Zhang Haichao literally opened up his chest to prove he had occupational lung disease. He finally received 615,000 yuan from the Xinmi-based Zhengzhou Zhendong Fireproof Material Factory in Henan province as compensation.
Later this year, another desperate 46-year-old coal miner, Wang Chengzhang from Sichuan province, also looked for open chest surgery to prove he is suffering from lung disease.