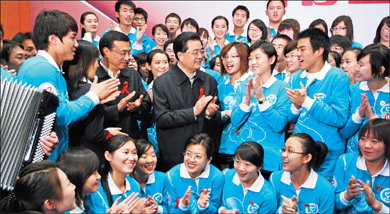 President Hu Jintao meets AIDS prevention volunteers during a gathering at the China National Convention Center in Beijing, a day before today's 22nd World AIDS Day.  [Xinhua]
Nongovernmental organizations (NGOs) committed to fighting HIV/AIDS in China will soon get legal status to operate, as the government is considering legally recognizing these organizations, experts close to the situation said.
These efforts will help the fight against AIDS, said Shen Jie, secretary general of the government-backed Chinese Association of AIDS and STD Prevention and Control, on the eve of World AIDS Day.
"If realized, that will not only facilitate the work of these organizations but also give a long-term boost to China's anti-HIV/AIDS efforts," Shen said.
China has 740,000 people living with HIV, with another 50 million facing high risk, she told China Daily yesterday.
Related readings:


 Global anti-cancer NGO launches China liaison office


 NGO questions dam project suspensions


 NGO wants cigarette brand name snuffed out


 NGO's energy forum underway in Beijing


 NGO delegates call for change, harmonious world
Currently, more than 400 NGOs are working in this field nationwide. The majority operates unregistered, which makes fund-raising and operations more difficult, experts say.
"But they actually play an important role in fighting AIDS and have an advantage over the government in reaching out to vulnerable groups like sex workers and men having sex with men," said Michel Sidibe, executive director of UNAIDS.
Sun Weilin, director of the Social Organization Registration Bureau of the Ministry of Civil Affairs, said the ministry is revising the current law on social organization registration, issued in the late 1990s, to adapt to the changing landscape and the new development of China's civic groups and NGOs. He conceded the current law is outdated.
With legal status, these organizations would have a better work environment and the ability to develop in a sustainable way, she said.
Administrative expenses would also be saved by the health departments and other organizations like the Centers for Disease Control, she noted.
Currently, NGOs have to be a subsidiary of legal groups like the CDC to have a bank account and operate.
"Working as a subsidiary, we NGOs feel inferior and always at the beck and call of others," said Bailaoshi, who heads an NGO based in Beijing supporting HIV/AIDS sufferers.
However, to better work with the government in the fight against AIDS, NGOs need to constantly enhance their working capacity, Shen said.
The government's work with the NGOs would also include constant financial support and policies that give benefits to NGOs and training, she said.
Yesterday, President Hu Jintao visited anti-HIV/AIDS volunteers in Beijing, one day before the annual World AIDS Day.
President Hu said China is still facing a tough task in HIV/AIDS prevention and control and called for constant efforts against that.
The last official estimation puts China's HIV positive population at 740,000. But another 50 million are at high risk from the disease.
Li Xinzhu contributed to the story