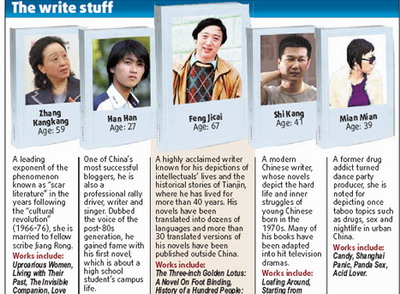 Zhao Ge, chief executive of Founder Apabi, China's largest private digital library boasting more than 600,000 authorized titles, disagreed. He said: "Big and powerful as it is, Google does not know about local markets and cultures as well as local players do. The survival of search engine Baidu is a case in point."
When contacted by China Daily, Google declined to comment on whether its services pose a threat to digital publishing enterprises across the world, including China.
China's domestic online publishing sector has been hampered by disputes over copyrights for the past decade, significantly slowing down growth, say experts.
An array of authorized public digital libraries has been launched in the past few years, including Founder Apabi, Superstar, Sursen and ChineseAll, while the nation has implemented at least 17 laws, bylaws and regulations concerning digital publishing, including the Regulations on Internet-based Publishing.
However, many publishing houses are still falling prey to online copyright infringement, said Liu Fang, a veteran publisher and head of marketing for the Chinese Writers Publishing House in Beijing.
Last year, his company released Yin Jianli's A Good Mother is Better than a Good Teacher (Hao Mama Shengguo Hao Laoshi), a popular parenting guide which sold 700,000 copies nationwide priced at 30 yuan.
But type the title into Google, or its Chinese equivalent Baidu, and the search will result in dozens of websites where the book can be downloaded for free.
"I have found hundreds of small e-shops selling pirated copies of the book at 8 to 10 yuan," said Liu. "You can also read the full text, as well as many other books published by my company, on famous Web portals for free, although none have obtained permission."
Chinese Writers Publishing House is working on a joint pilot service with China Mobile Corp aimed at offering downloadable novels to almost two million cell phone customers in Zhejiang province. It will be launched on Jan 1 next year.
But Liu admitted there is no fair and transparent mechanism for traditional publishing houses to monitor how much revenue digital distribution platforms, such as Web portals, digital libraries and mobile operators, generate by selling books. He also said it would be impossible for publishing houses and authors to stamp out online piracy and other infringements, and called for the law to be further tightened to protect against them.
"A lot of Chinese netizens have yet to see the importance of respecting copyright, while some regulations are new and ambiguous to many viewers and digital reading service providers," added Jiang Bin, senior director of digital library ChineseAll.
Curbing piracy on the Internet has been a big challenge for watchdogs worldwide, said Duan Guijian, chairman of the Copyright Protection Center of China, who advocates a new concept for resolving disputes between authors and digital publishers such as Google.
"Experiences show that evidence collection is extremely difficult in the fast-changing and somewhat chaotic cyberspace," said Duan. "For copyright governance in the Internet and mobile communication age, new profit-sharing models should be set up among all parties in the industry."
"The focus of copyright protection should shift from rushing to solve disputes to making rules for all players in the game in advance," he said.
Liu Binjing, head of the State General Administration of Press and Publication, admitted the law is not strict enough, but explained the government is working on a revised draft of the Regulations on Internet-based Publishing. He did not elaborate on when the rules may be approved or implemented.
Meanwhile, Li Shunde, vice-director of the intellectual property rights research center under the Chinese Academy of Social Sciences, added that the Google dispute "should sound an alarm for local publishers, authors and policymakers".
"It is urgent for the Chinese digital publishing industry to renew its strategies in the face of new challenges," he said.