SHANGHAI: The cost of a home in China rose sharply in October, with the price surging up at its fastest rate for 14 months.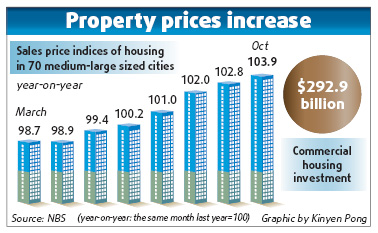 According to the National Bureau of Statistics (NBS), property prices in 70 Chinese mainland cities rose by an average of 3.9 percent when compared to their price last October.
Related readings:


 China's preferential housing policy may cease at year-end: official


 Group housing project abandoned


 Don't give up hope, say housing experts


 China's housing prices rise 2.8% in September

Prices of homes in new residential buildings went up 4 percent on average in October year-on-year, while the cost of State-subsidized housing edged up by 0.6 percent. Prices of commercial residences climbed 4.4 percent and high-end housing went up by 1.5 percent.
Analysts said the rate of increase in house prices may look high but that was because the property market in October 2008 was at the lowest point it reached during the downturn and the bar was set very low.
"If you put the number into a month-on-month perspective, there is much less price fluctuation," said Chen Sheng, a director with China Index Academy.
According to the NBS, the average cost of housing in October crept up by just 0.7 percent compared to the price in September.
"Average homebuyers might be misled by the higher rates of increase in the few major cities, such as Guangzhou, Beijing and Shanghai," Chen explained.
Nationwide, the price of new homes rose in 62 cities in October compared to a year earlier. Guangzhou reported the biggest rise - 12.1 percent - followed by Jinhua, Zhejiang province, which jumped by 11 percent.
While price rises were common in many cities, some were becoming more affordable.
In Jilin city, the cost of a home fell by 4.9 percent. In Xuzhou, Jiangsu province, properties fetched 3.7 percent less.
Experts say property prices - especially in Shanghai - could continue to go up at a fast rate during the next few months because of a buying spree triggered by talk of the possible removal of the favorable mortgage policy.
Fang Xinghai, director of Shanghai's financial services office, suggested at an annual financial meeting last Monday that the government might be prompted to tighten its loose monetary policy in a bid to clamp down on excessive speculation. Experts fear such speculation could feed a property market bubble.
Fang's observation was taken seriously by many would-be homebuyers.
Thirty-year-old Luo Yan and her husband raced to complete the purchase of a three-bedroom apartment in Shanghai with the help of an 800,000 yuan ($117,000) mortgage. The amount they borrowed was the maximum they qualified for.
"I am afraid that if we don't do something now, we will certainly miss the boat," Luo said.
Joe Zhou, research head at property consultants Jones Lang LaSalle, said in the following months, "we expect house prices will remain at a high level, bolstered by increasingly strong demand and limited supply".