ZHOUSHAN, Zhejiang Province - A new Chinese naval flotilla was deployed to the Gulf of Aden and waters off the coast of Somalia on Friday to protect merchant vessels against rampant pirates that still hold a Chinese ship for ransom.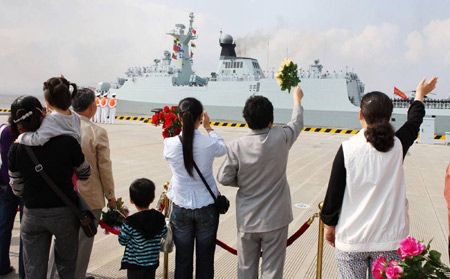 Family members wave good-bye to their loved ones of the fourth Chinese naval flotilla that was deployed to the Gulf of Aden and waters off the coast of Somalia to protect merchant vessels against rampant pirates in Zhejiang October 30, 2009. [Xinhua] 
The flotilla of the People's Liberation Army (PLA) Navy has been the fourth task force of its kind that China has sent to the region since the end of last year.
Missile frigates FFG-525 Ma'anshan and FFG-526 Wenzhou will relieve the FFG-529 Zhoushan and FFG-530 Xuzhou from the PLA Navy's third flotilla which have patrolled the area since June.
The new warships will join Qiandaohu, a supply ship, which has been on duty in the region for about three months. The fourth flotilla will have a crew of more than 700, including a special force unit and two ship-borne helicopters.
They would actively take part in international humanitarian rescue missions, said Liu Xiaojiang, the Navy's political commissar.
A Chinese coal-carrying vessel "De Xin Hai" with 25 crew members on board was kidnapped by pirates about 1,000 sea miles away from the patrolling area of Chinese warships in the Indian Ocean.
So far all the 25 crew members have been identified as Chinese citizens by the shipping company they worked for. The Ministry of Transport is working on the release of the ship.
It is not immediately known whether the new naval task force will bear a rescue mission for "De Xin Hai", but the two Chinese frigates currently patrolling the area have intensified the frequency of surveillance by shipborne helicopters, skiffs and the special force unit for merchant vessels passing by.
China made an unprecedented move by sending three warships to the Gulf on December 26 last year in the first overseas escort mission for merchant vessels.
The PLA Navy warships have escorted hundreds of domestic and foreign vessels since the first flotilla arrived in the region.