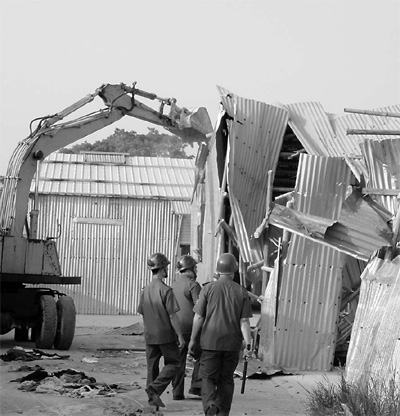 Workers demolish shanty buildings on Thursday that had been used to process "foreign garbage" in Lufeng, Guangdong province. [China Daily/Huang Jiafeng]


GUANGZHOU: A city is trying to dig itself out from beneath a mountain of "foreign rubbish" by cracking down on once-dumped garments that are being resold on its streets by the millions.
Authorities in Lufeng, which is part of Shanwei city in Guangdong province, say the time has come to unravel the trading of illegally imported formerly dumped clothing.
The local government has launched a special force drawn from several authorities. The team is being led by the office responsible for combating smuggling and its members are looking to crack down on the illegal trade in "foreign rubbish", said a press officer surnamed Huang from Lufeng government.
"The crackdown has become routine work for us," Huang told China Daily yesterday.
Related readings:


 Guangdong cracks down on used clothes trafficking


 Cops crack 700 trafficking cases


 Authorities out to rip into illegal garment trade


 Govt to crimp shrimp smuggling, sales


 China mulls plans to curb rare earth smuggling
So far during the campaign, some 288 storage buildings used by garment smugglers have been torn down in Xinrao village, Jieshi township, which is a major hub for the illegal garments industry.
The cleanup took place Thursday.
More than 800 government officials and police officers from several government authorities have taken part in the crackdown and five drivers allegedly involved in transporting the garments have been detained, the local press office said.
In addition, law enforcement officials destroyed 120 tons of smuggled garments in Jieshi last week.
As of Thursday, more than 67 tons of smuggled garments have been confiscated in a crackdown in Jieshi that began last Saturday, Huang said.
The smuggled garments were confiscated en route from Dongxing, Guangxi Zhuang autonomous region, to Jieshi.
The illegal garments seized so far were once shipped directly from Hong Kong in the 1990s. But with tightened checks from Lufeng customs, they are now being transported from neighboring Guangxi and Fujian to the township, said Chen Liangzhuang, director of the office responsible for combating smuggling in Lufeng.
"As Fujian and Guangxi have become the first stops for smuggled garments on the mainland, we should join hands with authorities in Fujian and Guangxi to better tackle the problem," Chen said.
Jieshi's coastline has become a major conduit for the shipping into China of once-dumped clothes. The trade began in the 1980s.
"It is hard to predict how many people have been involved in the illegal trade in the township," Chen said.
At least 800 families in the villages of Sanjiacun, Shuixiangkou and Dongguanxiang depend on the trade for their livelihoods.
It is illegal in China to import dumped clothes but it is not illegal to refurbish and process previously-dumped garments. "As a result, it is hard for us to confiscate garments which are under refurbishment if we don't know how they come into the township," Chen said.
Moreover, local residents who depend on the industry will need time to adjust, he said.