SHANGHAI: The sea-shell-shaped Israel pavilion covering 2,000 square meters is to be completed for the Shanghai World Expo scheduled for opening on May 1 next year.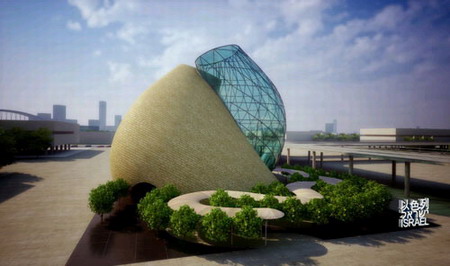 An artistic rendition of the Israel Pavilion.[en.expo2010.cn]
This will be the first time the Jewish country to participate in an world expo with a pavilion built on its own.
Related readings:

 Shanghai marks 200-day countdown to World Expo


 US raises 2/3 of funds for World Expo attendance

 Cooking competition held to greet 2010 World Expo


 7.25 million World Expo tickets sold
The pavilion is a miniature of Israel and a new platform for more exchanges and cooperations between Israel and China, said Yaffa Ben-Ari, Israel's deputy commissioner-general to the Shanghai Expo.
In agriculture sector alone, it is valuable for the two nations to deepen cooperation in irrigation, seed and dairy technologies, she said, adding Israel is willing to work together with China in exploring sustained and innovative solutions for migration from rural to urban areas.
According to Ben-Ari and Haim Dotan, the pavilion's architect, the structure itself will be a combination of traditional Chinese philosophy and modern Israel architectural arts.
The pavilion appears similar to the yin and yang symbols of tai chi that feature so prominently in Chinese culture, Ben-Ari said.
Through the pavilion, Haim Dotan wanted to tell the public that people should learn from the "wisdom of nature".
Inside the Israel pavilion, an orchard dubbed Enlighten Garden will be capable of accommodating up to 300 visitors at a time. It will be surrounded by the country's indigenous plants, which will be watered by  advanced irrigation systems designed by Israelis.
Through various exhibits, the garden will display Israel's innovations in agriculture and environmental protection.