Beijing: China National BlueStar (Group), a subsidiary under China National Chemical Corp (ChemChina), and Bayer MaterialScience today signed a Memorandum of Understanding (MOU) in Beijing. As part of the agreement, Bayer will provide its innovative Oxygen Depolarized Cathode (ODC) for use in BlueStar's membrane cells for developing advanced electrolysis solutions for chlorine production.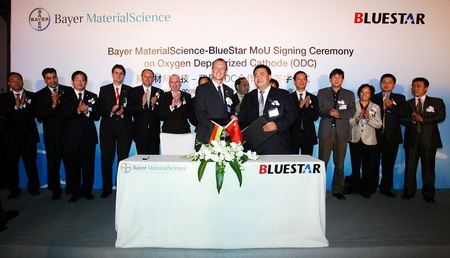 Michael Koenig(L, Front), president of 

Bayer Greater China Group

s, and Bai Xinping(R, Front), general manager of China National BlueStar, sign a memorandum of understanding in Beijing, Oct 22, 2009. [chinadaily.com.cn]
As China has become the world's largest and fastest growing producer of chlorine, and given chlorine production is an intensively energy-consuming process, the partnership between BlueStar and Bayer promises significant benefits in the production of chlorine. These benefits include providing a direct reduction of up to 30 percent in electricity consumption and a corresponding indirect reduction in CO2 emission that contribute significantly to combating climate change. Based on a chlorine capacity of approximately 21 million tons in China, ODC enables a CO2 abatement potential of yearly up to 15 million tons.
Related readings:


 BlueStar starts coinstruction of RO membrane project in Beijing


 China BlueStar, Adisseo to build methionine plant in Nanjing


 CSR Special: BlueStar summer camp key factor in building transnational culture


 Bayer: Beijing branch heavily involved in its worldwide growth


Bayer plans 100m euro investment
"Our special Oxygen Depolarized Cathode enables the membrane electrolysis process to perform at a much lower voltage. This delivers a key breakthrough in reducing energy consumption and indirect CO2 emissions during the production of chlorine. Our vision is to leverage such innovations to help combat global climate change," said Tony Van Osselaer, member of the executive committee of Bayer MaterialScience. "By partnering with China National BlueStar (Group), we are able to realize this vision in China, and ultimately helping to enable a more sustainable and ecologically friendly production process for the chemical industry."
As one of the most successful chemical enterprises in China, Bluestar has been devoting its efforts to save the energy and improve water resources through innovation. The affiliated Bluestar (Beijing) Chemical Machinery Corporation is a prominent manufacturer, ranging the top three globally with 47 percent Chinese market share.
"We are always dedicated to be the best supplier of electrolyzing equipments for Chinese industries," said Wang Jianjun, general manager of Bluestar (Beijing) Chemical Machinery Corporation, "During the past decades, we have cut down the energy consumption in electrolyzing process by 30 percent through innovation. Our cooperation with Bayer enables us to equip our electrolyzing products with ODC so as to save more energy, as a more efficient, green solution in chlorine production."