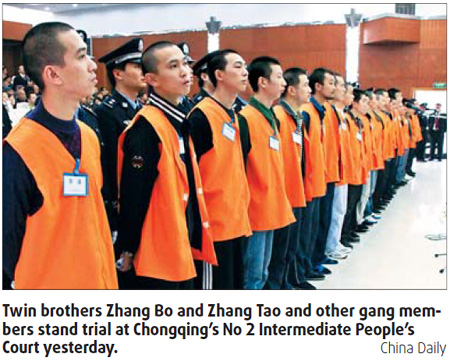 Twin brothers Zhang Bo and Zhang Tao, the youngest gang bosses in China's southwestern Chongqing municipality, yesterday stood trial for organizing a mafia-style gang, following a crime crackdown in the city.
In Chongqing's No 2 Intermediate People's Court, the brothers, aged 23, were accused of organizing and leading a gang, running illegal gambling dens, injuring people, destroying others' possessions and imprisoning people illegally.
The trial, with 24 total defendants, is expected to continue today.
The indictment said the brothers organized a 14-member mafia-style gang in early 2007 and since then have repeatedly committed crimes in the city's Wanzhou district.
Related readings:


 Mafia-style suspects put on trial


 Chongqing: Busting gangs takes toll on police


 Busting gangs takes toll on police


 Official arrested over allegedly protecting gangs in Chongqing
The brothers also made a set of rules for their organization. For example, everyone was equipped with knives, newcomers had to "do something bad" to practice courage, and every member got payment in accordance with their "work performance." Also, the members were told to keep quiet when the gang had any trouble, the indictment said.
The twins paid members' salaries and covered other expenditures with the money taken from gambling dens - all in an effort to control the members.
From 2007 to June 2009, the brothers opened mobile gambling dens and maintained order within them by using violence, according to the indictment.
They also intentionally injured six people, destroyed other people's possessions worth 19,700 yuan ($2,900) and illegally imprisoned a person for more than 24 hours.
On June 22 last year, two members of the Zhangs' gang lost money after playing in a game house. Zhao Tao came to help them and asked the owner of the house to pay the money back. When Cui Binwu, the owner, turned down their request, the gang then smashed all game machines.
In July 21 this year, 21-year-old Liu Anmin failed to pay a loan of 40,000 yuan to Liu Xiaogang, a member of Zhangs' organization. Liu Anmin was then imprisoned in a hotel room for 26 hours until the police came to rescue him.
The twins' mother, 45-year-old Tan Yanqiu, is angry and sad about her sons' story.
Tan said when the twins were born, she was so happy and invited almost everyone in the village to celebrate.
The twin brothers were good boys and students until middle school, when their parents went to Hubei province to work. Then the boys started to skip classes and finally stopped going to school, she said.
"We sent them to learn skills. Zhang Bo became a disciple of a shoemaker, and Zhang Tao started to learn driving," their mother said.
However, the brothers were not satisfied with their salaries as a shoemaker and driver. Instead they started to gamble and wanted to open gambling dens themselves.