SHANGHAI: Shanghai authorities said Sunday that they found industrial salt in food that sickened 26 people at a local delicatessen.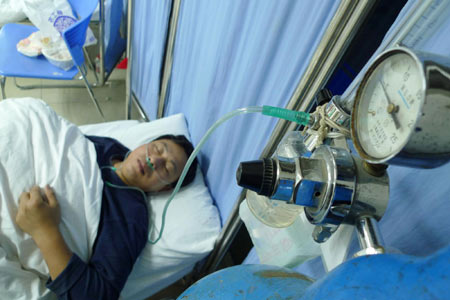 A man who ate food at "Zhibin Delicatessen" receives treatment at Pudong District People's Hospital in Shanghai, east of China, Oct. 18, 2009.[Xinhua] 
One of the poisoned patients died in the Pudong District People's Hospital and 10 were still receiving treatment there. Those with light symptoms have left hospital, according to a health department official in Pudong District, on Saturday.
The patients were diagnosed with nitrite poisoning, according to the hospital.
The people showed symptoms of nausea, vomiting and rapid heartbeat, after eating food at "Zhibin Delicatessen" in Pudong.
The local administration for industry and commerce has shut down the shop, which was found to operate without valid business license, and confiscated more than 26 kg of processed food and processing facilities.
The administration said that they will send the food sample for further test, and traced the sales links that sold the industrial salt to the food shop.
The owner of the delicatessen has been detained by police.