BEIJING: China and Russia signed 12 agreements, including agreements on natural gas and oil, as the premiers of the two countries held their 14th regular meeting in Beijing on Tuesday.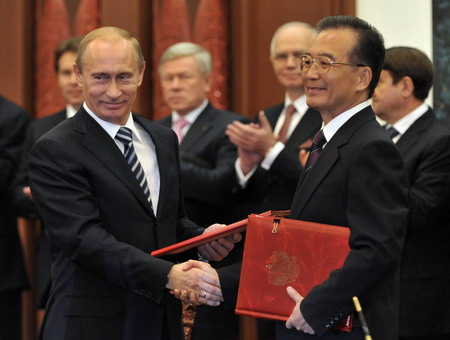 Russian Prime Minister Vladimir Putin (L) and Chinese Premier Wen Jiabao shake hands after signing a bilateral cooperation agreement at the Great Hall of the People in Beijing October 13, 2009. [Agencies] 
More photos
The signing ceremony was overseen by Chinese Premier Wen Jiabao and his Russian counterpart Vladimir Putin after their talks in the Great Hall of the People in downtown Beijing.
Prior to their talks, Wen hosted a red-carpet welcome ceremony for Putin, who is on his first official visit to China since taking office in May 2008.
The agreements include a framework agreement on Russia's export of natural gas to China, a memorandum of understanding (MOU) on high-speed train and an agreement on mutual notification of ballistic missiles and launch of carrier rockets.
Related readings:


 Energy high on agenda for Putin visit to China


 Putin in China to secure gas pact

 Putin's China visit to bring $5.5b in deals


 China, Russia bolster ties with $3.5B deals


China, Russia set to ink slew of contracts
Wen and Putin also reached consensus on cooperation in various fields.
They agreed to enhance political trust, address each other's core interests and major concerns, and support each other's efforts to safeguard sovereignty, security and territorial integrity.
They agreed to deepen trade on machinery and electronic products and oppose trade protectionism.
With regard to energy cooperation, they agreed to work together to make sure the oil pipeline, running from Skovorodino, Russia, to China's northeastern city of Daqing, could be completed by the end of 2010 and start stable oil supply in 2011.
They said the two countries decided to launch the west and east lines of the gas project simultaneously in a bid to start supplying gas between 2014 and 2015.
They agreed to enhance cooperation between localities by implementing an outline of regional cooperation between Northeast China and the Russian Far East Area and Eastern Siberia.
The two sides also agreed to step up coordination in international affairs to deal with the global challenges, jointly promote the establishment of a new international financial order and improve representation of the developing countries and emerging economies.
During his talks with Putin, Wen said Putin's visit at the 60th anniversary of the establishment of Sino-Russian ties is of great significance.
Bilateral relations have become stable and mature since the forging of diplomatic ties 60 years ago and particularly the establishment of the Russia-China strategic cooperative partnership in 1996, Wen said.
The level of political mutual trust, strategic and practical cooperation between the two countries has been improved continuously and yielded many achievements, effectively advancing the development of bilateral ties and positively influencing world peace and development, he said.
The Sino-Russian relations are role models of relations between neighboring countries and relations between big powers, said Wen, adding that China is willing to work with Russia to make greater achievements in the future.
Putin warmly congratulated the 60th anniversary of the founding of New China, saying China has achieved great success in various areas in the past 60 years.
Russia and China have become genuine and comprehensive strategic and cooperative partners in recent years, he said.
The two sides have carried out cooperation in politics, economy and international affairs with mutual trust, and the bilateral economic cooperation has withstood the test of the global financial crisis, Putin said.
Later Tuesday, Wen and Putin also met with the business people who attended a China-Russia economic forum.
Before the forum, Chinese Vice Premier Zhang Dejiang and his Russian counterpart Alexander Zhukov attended the signing of deals worth 4 billion U.S. dollars between financial institutions and enterprises of the two countries.
"China-Russia trade has seen fruitful results and has brought tangible benefits to the two countries," said Wen.
Wen hoped the business people from the two countries should take the opportunities and make joint efforts to tackle the global economic downturn.