* "Apparently, they (the police) just don't want me to go to the trial," Ai Weiwei said.
CHENGDU: Tan Zuoren, who had been investigating the deaths of students in last year's Sichuan earthquake, stood trial yesterday for subversion.
Tan, a 55-year-old local resident, was accused of telling lies to foreign media organizations after the quake and so "greatly staining the image of the government and the Party," according to the indictment offered by Tan's lawyer Pu Zhiqiang.
Related readings:


 China's quake-zone pupils rejoice in Russia


 Sichuan opens up selection process for officials


 Post-quake schools will be 'safest'


Poor design blamed for school woes


 Collapse of schools to be probed
Tan was also believed to have written essays about the June 4 incident in 1989 and to have contacts with overseas activists, the court paper says.
Reporters were not allowed into the Chengdu Intermediate People's Court, where the trial took place from around 10 am to 12:20 pm. Tan's wife and one of his daughters were allowed into the courtroom, although his brother and other daughter were not, Pu said.
Tan denied all charges during the trial, Pu said.
No verdict was given yesterday. According to the Criminal Law, the heaviest punishment for subversion is life in jail.
The lawyer said he has no idea when the verdict will be announced.
"But we won't give up as long as there is hope," Pu said.
Following the 8.0-magnitude earthquake in Sichuan last year, Tan tried to investigate the collapse of school buildings in the quake and the number of schoolchildren killed.
Critics allege that shoddy construction, enabled by corruption, caused several schools to collapse while buildings nearby remained intact - a politically sensitive theory.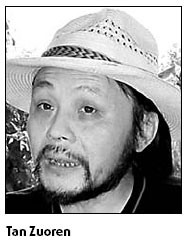 Pu said he was unsatisfied with yesterday's trial, as the judges always tried to cut his words short. His requests to call three witnesses, including artist Ai Weiwei, who had also been investigating the student deaths in the quake, was rejected. His request to show video evidence also was denied.
Ai said he arrived in Chengdu on Tuesday, but was kept in his hotel room until 2 pm.
"Apparently, they (the police) just don't want me to go to the trial," he said.
Tan has also built a reputation as an environmentalist, and has spoken out strongly against a petrochemical project in Pengzhou, which has hurt some interests of the local governments, Ai said.
Both court and police authorities would not comment on Tan's case yesterday.
Ai Nanshan, a 70-year-old environmentalist and another witness who was supposed to appear in court yesterday, was also denied entry into the room.
"I wanted to be a witness to testify that Tan has done a selfless job for the city. I've known him for many years," Ai Nanshan said.
Some members of four local environmental organizations also wanted to serve as witnesses for Tan, he said.