Diplomatic envoys expressed their support for the people of Xinjiang yesterday while visiting Urumqi, where the deadly July 5 riot claimed 197 lives.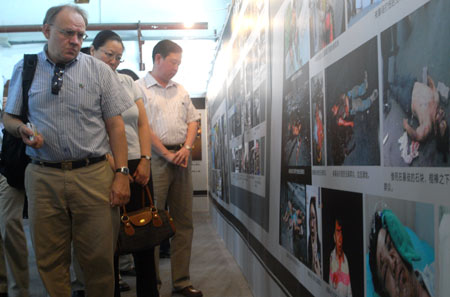 Diplomatic envoys from 26 countries and regions visits an exhibition on July 5 riot in Urumqi, August 11, 2009. [China Daily] 
Invited by the local government, diplomatic envoys from 26 countries and regions were taking part in a five-day visit to the northwestern Xinjiang Uygur autonomous region that began on Monday.
Related readings:


Kadeer speech in Australia criticized


Diplomats call for anti-terror co-op


Plane back to Urumqi after threat


Economy still Xinjiang's focus

Security was tight and traffic control was intensified in the capital city. Some roads were sealed off for the ambassadors and diplomats to pass through.
The envoys visited an exhibition of photographs taken during the deadly unrest.
"The riot was so horrific, but I am glad to see that it will not derail the development of the region," said David Malcomson, an envoy from South Africa, after visiting the exhibition.
China has shown the world that by working together, people can make this incident a footnote in the history of the region, Malcomson said.
The Egyptian ambassador, H.E Faisal Rashed J.Al-Ghais, had similar praise.
"China is a big, developing country. I understand that the riot could happen to any country. I appreciated that the government published information about the riot, so the truth will be known," he said.
The ambassador added that Islam has come to China and exists in a peaceful way. It's important for local people to study Islam, because ignorance opens the way to extremism, he said.
Nolama Ta Ama, the ambassador from Togo, met with Nur Bekri, chairman of the Xinjiang regional government, on Monday.
"The Chinese central government and the local government of Xinjiang exercised great restraint during the incident and took effective measures to stop the violence," said Ama.
Violence can only escalate conflicts but cannot solve any problem, said Ama, who was heading up the diplomatic delegation.
"No government in the world will tolerate evil forces," he said. "The adherence to the 'one China' policy is in the interest of all nations."